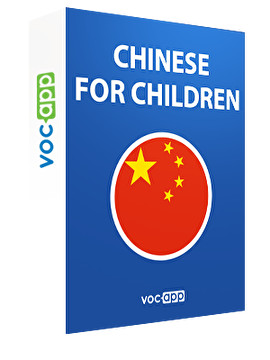 Chinese for children
Your kids will learn Chinese with VocApp!
Your kid is interested in learning new languages? Why not learn Chinese?
With this course you kids will learn basic Chinese vocabulary to have conversations
This can be a good way for you to spend some time together
Forget the "Hello", start with the "Ni hao" today!
×
Questions?
Create account >

Select the payment method

>

Payment

>

Confirmation of registration
try it for free (20 flashcards)
Get full access
The basics: pronunciation - 发音




15 flashcards

Hello - 你好




15 flashcards

The animals - 这些动物




18 flashcards

Numbers - 数字




19 flashcards

Colors - 颜色




14 flashcards

My toys - 我的玩具




16 flashcards

At school - 在学校




14 flashcards

My body - 我的身体




15 flashcards

Show all lessons (19)
If you are not satisfied with the product you have bought, contact us and we will reimburse your money.
Marcin Młodzki
,
board member
(Warsaw, 1st Oct 2018)
VocApp Sp. z o.o.
ul. Mielczarskiego 8/58 | 02-798 Warszawa
TAX NUMBER: PL 951 245 79 19
vocapp@vocapp.com
Address
VocApp Sp. z o.o.
ul. Mielczarskiego 8/58
02-798 Warszawa
NIP: 951 245 79 19
REGON: 369727696
Get to know Chinese symbols
Are you looking for the best option for your child to learn Chinese vocabulary or you want to show how Chinese symbols look like? Would you like your children to be able to say hello in Chinese or mom in Chinese? If so, try VocApp language course ! The best way of learning Chinese is through games or flashcards !
Show your child some Chinese words
Do you think that learning Chinese is difficult? Not with VocApp! Learning languages requires an efficient method! To do so, you cannot forget about VocApp which gives a lot of Chinese sentences, Chinese phrases or simply Chinese words. The content and the algorithm we use is the best for your child! There are almost 20 Chinese lessons where your child will, among the others, explore colours in Chinese and will get to know numbers in Chinese!
How to learn Chinese
With our course-Chinese for children, your kid will be able to learn Chinese online at her or his own pace. You can easily manage the time for that ! Your child will have access to a varied list of vocabulary and will be able to learn the most used Chinese words. Our language learning software will motivate your baby to learn Chinese and will offer good time. Even though learning Chinese might seem like mission impossible, through the use of our flashcards and its spaced repetition, it is easy to memorize Chinese sentences, Chinese words, as well as the correct pronunciation of every Chinese symbol, i.e. kanji.
Chinese vocabulary flashcards
With our flashcards your child will be able to quickly conquer Chinese vocabulary and become more proficient and fluent. Gain more vocabulary and have fun with VocApp. Make your children happy and show them VocApp flashcards with Chinese words which will help them to speak Chinese !
Start with hello in Chinese in Chinese for children and enjoy our great course in VocApp. After that your children can start with Chinese in 1 day to practise Chinese vocabulary.
---