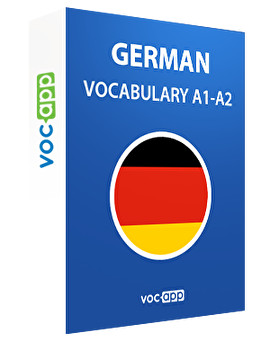 German A1 - A2 vocabulary
Learn basics of German with us!
Over 1500 useful, basic German words, sentences and grammar rules
It's a great start to learn a new language!
Are you going on vacation to Germany? Check out this course to be able to have a simple conversation!
Don't worry about "ß", "ü", "ö", "ä"... - we will teach you how to pronounce them!
×
Questions?
Create account >

Select the payment method

>

Payment

>

Confirmation of registration
try it for free (50 flashcards)
Get full access
Alphabet - Alphabet




30 flashcards

Simple German phrases - Einfache Ausdrücke




36 flashcards

Internationalisms - Internationalismen




54 flashcards

Numbers and colours - Zahlen und Farben




78 flashcards

Time and day - Zeit und Tag




49 flashcards

Months and seasons - Monate und Jahreszeiten




19 flashcards

Places, directions and transport - Orte, Richtungen und Transport




60 flashcards

Travel phrases - Ausdrücke für Reisen




43 flashcards

Show all lessons (29)
If you are not satisfied with the product you have bought, contact us and we will reimburse your money.
Marcin Młodzki
,
board member
(Warsaw, 1st Oct 2018)
VocApp Sp. z o.o.
ul. Mielczarskiego 8/58 | 02-798 Warszawa
TAX NUMBER: PL 951 245 79 19
vocapp@vocapp.com
Address
VocApp Sp. z o.o.
ul. Mielczarskiego 8/58
02-798 Warszawa
NIP: 951 245 79 19
REGON: 369727696
Facts about German
German language is the second most spoken in the scientific/academic world? Germany is considered one of the countries with the greatest number of useful inventions in history: insulin, diesel engine, pocket watch, press, electric locomotive, among others. German language is spoken by many famous people in the world. Although German is the official language, there are several dialects in Germany that vary from region to region such as Frisian, Low German, Middle German, Frankisch, Alemannic and Bavarian- Austrian. German languageis a mother tongue for most of the people in Germany, Austria, Switzerland, Luxembourg, Liechtenstein, in some parts of Belgium, the Italian region of South Tyrol and southern Denmark. There are about 185 million German speakers in the world, and it is the 10th most spoken language. The German pronunciation might sound more difficult at first, but we will help you to learn it thanks to our "German A1-A2 vocabulary" course.
How to improve German vocabulary?
Have you thought how to improve German vocabulary ? We will teach you most common German words. This German vocabulary app will help you to improve your German language in no time. Thanks to VocApp flashcards learning German language can be easy and fun. Learning German language for beginners don't need to be exhausting and difficult so we created our course "German A1- A2 vocabulary" for those who want to learn German vocabulary. This course can be supplementary learning and teaching material of German language. You will also learn to pronounce every word because we have a good audio system for every word or phrase. Our flashcards are useful, and you can choose when you want to study. You can check them time by time to revise your German language. Try our German vocabulary flashcards today, and you will be surprised how easy they are.
Improve your vocabulary with our courses:
---