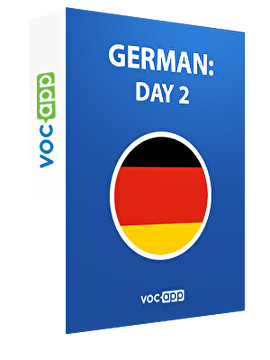 German: day 2
Learn German with us!
Would you like to have a simple conversation in German? Kein Problem!
Feel confident using the language of Angela Merkel!
Learn some useful phrases that will be helpful "im Alltag" in Germany!
Increase your knowledge thanks to our lessons!
×
Questions?
Create account >

Select the payment method

>

Payment

>

Confirmation of registration
try it for free (20 flashcards)
Get full access
Useful phrases - Nützliche Wendungen




25 flashcards

Nouns - Substantive




37 flashcards

Characteristics - Eigenschaften




31 flashcards

And, or, but, so ... - Und, oder, aber, also...




23 flashcards

Space - Raum




36 flashcards

Time - Zeit




31 flashcards

Number - Zahl




30 flashcards

To be and to have - Sein und haben




72 flashcards

Show all lessons (13)
If you are not satisfied with the product you have bought, contact us and we will reimburse your money.
Marcin Młodzki
,
board member
(Warsaw, 1st Oct 2018)
VocApp Sp. z o.o.
ul. Mielczarskiego 8/58 | 02-798 Warszawa
TAX NUMBER: PL 951 245 79 19
vocapp@vocapp.com
Address
VocApp Sp. z o.o.
ul. Mielczarskiego 8/58
02-798 Warszawa
NIP: 951 245 79 19
REGON: 369727696
Why is learning German important?
It is not a secret that the German language is an important language in many fields, whether it's education, science, economy and many other. Learning German is a great idea if you want to make a career in some of the best multinational companies located in Germany! Moreover, people learn German to get a university degree in Germany since it's so valued by employers in every country! Another reason why it's great to start learning German is the fact that when you'll know how to speak it, you'll have all the chances to move to the economically powerful country that offers some of the best living and working conditions worldwide! Let's not forget that German is spoken in many other countries, including Switzerland, Liechtenstein, Austria, Belgium, Luxembourg and not only, which makes learning German even more useful! Whether you want to learn some German phrases to impress your friends or colleagues, to speak German during your trips or you want to learn German on an advanced level - our course is a great way to start! Continue reading to discover more about the German phrases this course will teach you and why are they so important!
Learn basic German
Our professional linguists worked to create this basic German course that includes some of the most important German phrases and is a continuation of the German in 1 day course. It will teach you the German phrases that are commonly used by the natives! They will help you express yourself in every situation and find the perfect German phrase to say what you want! Learning these German phrases will be easy and fun thanks to our flashcard method. Each flashcard will introduce you to a German phrase or a useful word in German, will translate and explain it to you, teach you how to use and pronounce it. You will also find pictures for the German phrases that will help you understand and remember them easier! Here are some of the things this German course will teach you:
1. Important nouns in German
2. The verbs "to be" and "to have"
3. Numbers in German
4. Useful German phrases
5. How to speak about time in German
More German courses
There are a lot of professional German resources on our site and our linguists work to create even more! Every course includes only the most important German phrases and words in German that you should learn. Each learner can find the perfect course for him and his level of German. There are courses on business vocabulary, IT, travelling and many more! We advise you to proceed to the German A1 - A2 vocabulary course that includes the most important German phrases and basic German words of the A1-A2 vocabulary. If you're planning to visit Germany and want to learn the German phrases that will allow you to buy a ticket, ask the way or order food - the perfect course for that is German for travelling! Explore our site to find exactly what you want to learn and download our app to discover interesting and useful features that will make the learning process fun and interesting!
---