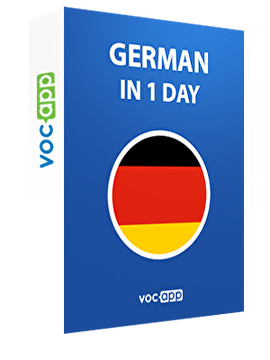 German in 1 day
Learn some basic German words and phrases with ease
Find out how to say some basic and most important words in German
Don't be afraid of "ß", "ü", "ö", "ä"... - we will teach you how to pronounce them!
Get to know some basic grammar rules and understand how to use them in practice
Having a simple conversation in German would be "einfach" for you!
Sign up for free
This course is 100% free. We want to show you how fast & easy you can learn with us.
10 words in 60 seconds - 10 Wörter in 60 Sekunden




10 flashcards

You already know that! - Das kennst du schon!




11 flashcards

Questions - Fragen




15 flashcards

Courtesy words and phrases - Höflichkeitsformeln




18 flashcards

People - Personen




37 flashcards

Actions - Aktivitäten




19 flashcards

Untranslatable words - Unübersetzbare Wörter




9 flashcards
Should I learn German?
Our answer is definitely yes! The German language will bring many new opportunities to your life! Not only will you impress the natives with your German language skills when travelling to Germany, you will also discover a new part of the Internet since more than 5% of world's websites are written in German! You'll have the chance to read the works of Goethe and Kafka in original, besides the tens of thousands of German books that are published yearly. Moreover, Germany has the biggest economy in the European Union, meaning that you'll have the chance to work in some of the best corporations on the globe! You can learn German and rellocate to Berlin or other important economic centres in Germany to benefit of endless career opportunities. Learning German will make it easier for you to communicate to people that live in Germany and the many Germans that travel outside their country. No matter in what field you work, we are sure that learning German will be useful and it will be a great advantage. Start learning German with our professional German courses and you will soon speak German!
Why this German course?
The German in 1 day course will help you learn some of the most common German phrases by youself! Our linguists gathered only the most important and useful common German phrases, as the German greetings, common verbs, nouns and adjectives, numbers, etc. You will learn basic German words, such as yes in German, good morning in German and many more. Of course, the common German phrases include thank you in German and you're welcome in German, which are important things to know in order to make a good impression on people. The flashcards will make it simple to learn the common German phases of this course. Each of the flaschards will introduce you to one of the common German phrases with a picture, translation, hint and of course, the German pronunciation. This course will teach you German in a fun way and allow you to learn German online. You can also download the flashcards as an mp3 or pdf file to learn the common German phrases with comfort whenever you want and wherever you are. The German vocabulary of this course includes a wide variety of common German phrases and most used German words. Here are some of the things you will learn:
1. Questions: Was? Wer? Wo?
2. Courtesy words and phrases: Hallo! Tschüss!
3. People: ich, du, sie
4. Actions: haben, wollen, können
5. Untranslatable words: jain, tja, doch
Want to know what do these German words and common German phrases mean? Then proceed to the course and you will understand the meaning of these basic German words and common German phrases easily!
Professional German resources
Learning German may seem like an impossible task but we strive to show you it's not! Our linguists work daily to create more German courses to suit each person! Learn and repeat the common German phrases we included in this course and take a look at our collection of great German resources. They include basic German courses as well as more advanced ones, such as the course of business German. We advise you to continue with the German: day 2 course that will enrich your German vocabulary further and the German for travelling course, in case you're planning to visit Germany and need to know how to ask the way, to check in a hotel or to order at a restaurant. Don't forget to download our app to learn German on the go!
---