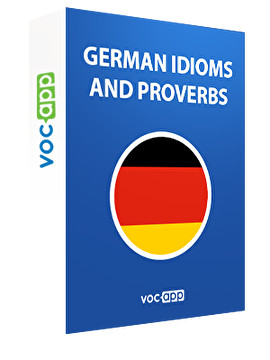 German idioms and proverbs
Improve your understanding and impress the natives!
Over 600 popular German proverbs, idioms and expressions
Learning is easier thanks to the thematic structure (expressions with colours, animals etc.)
Expand your vocabulary and feel more confident speaking German
Understand more thanks to our example sentences!
"Spucken Sie in die Hände!" - roll up your sleeves and find out what it means!
×
Questions?
Create account >

Select the payment method

>

Payment

>

Confirmation of registration
try it for free (30 flashcards)
Get full access
Sprichwörter




93 flashcards

Farben




38 flashcards

Tiere




83 flashcards

Körperteile - Teil 1




90 flashcards

Körperteile - Teil 2




88 flashcards

Kleidungsstücken




32 flashcards

Eigennamen, Menschen, Orte, Gebäude




32 flashcards

Essen




33 flashcards

Show all lessons (12)
If you are not satisfied with the product you have bought, contact us and we will reimburse your money.
Marcin Młodzki
,
board member
(Warsaw, 1st Oct 2018)
VocApp Sp. z o.o.
ul. Mielczarskiego 8/58 | 02-798 Warszawa
TAX NUMBER: PL 951 245 79 19
vocapp@vocapp.com
Address
VocApp Sp. z o.o.
ul. Mielczarskiego 8/58
02-798 Warszawa
NIP: 951 245 79 19
REGON: 369727696
Lass VocApp dir das Ei des Kolombus zeigen!
Wusstest du, dass "Es ist mir Wurst." "Es ist mir egal." bedeutet, oder dass "von den Socken sein" auf "überrascht sein" Bezug nimmt? Falls nein, beschreiben wir dir in diesem Kurs, der sich aus mehr als 600 typische Ausdrücke besteht, die Bedeutung der deutschen Sprichwörter und Redewendungen. Diese Liste der meistbekannten deutschen Sprüche ist auf Deutsch geschrieben und thematisch gegliedert. Tatsächlich kannst du in diesem Kurs z.B. deutsche Redewendungen mit Farben, Essen oder Sprichwörter mit Kleidungsstücken entdecken.
Die wichtigkeit der Sprichwörter und Redewendungen
Die Beherrschung der typische Ausdrücke einer Sprache kann manchmal schwer sein, besonders wenn man versucht, Deutsch zu lernen, da eine komplexe Sprache ist.Die Sprichwörter und die Redewendungen sind jedoch notwendig, um beispielsweise die verschiedene deutsche Filme oder Lieder zu verstehen und um den deutschen Humor zu genießen. Außerdem, wenn du kein Auffassungsgabe dieser grundlegenden alltäglichen Redensarten hast, kannst du dich in unangenehme Situationen befinden. Vorstelle dich, dass jemanden, mit der du sprichst, dir sagt, dass du "ein junges Gemüse" ist, wenn du keine Ahnung hast, was die Bedeutung diese deutsche Redewendung ist... Mithilfe dieser Liste der meistbekannten deutschen Sprüche könntest du somit dich von anderen unterscheiden, dich ohne Verständnisprobleme mit Deutschen unterhalten, einen Eindruck in deinem Freundeskreis machen und natürlich entdecken, was "ein junges Gemüse" meint.
Ob du dich für juristische Ausdrücke interessierst, lern mehr mit diesem anderen komplett in Deutsch Kurs : Deutsche juristische Fachsprache - Anfängerkurs
---