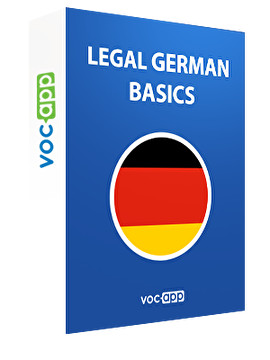 Legal German - basics
The German basics for every self-respecting lawyer!
You might have heard about the challenges of German legal vocabulary.
No worries, thanks to Legal German course that is going to be a thing of the past!
If you're planning to become proficient in German legal vocabulary, start with this course!
VocApp will make all those easy-to-forget words a piece of cake!
Sign up for free
This course is 100% free. We want to show you how fast & easy you can learn with us.
Allgemeines




26 flashcards

Strafrecht




34 flashcards

Zivilrecht




21 flashcards

Politik und Gesetzgebung




7 flashcards

Handelsrecht




12 flashcards
---