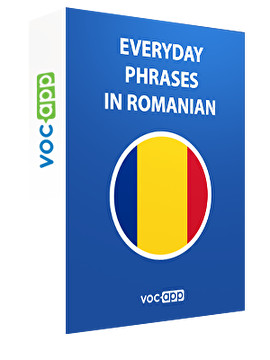 Everyday phrases in Romanian
All of the most useful phrases in Romanian in just one course!
Master all the phrases you will need in order to find the way or buy a ticket
Impress the natives with your knowledge and great pronunciation
Use our unique system to remember all the new words forever
Learn in order to speak Romanian with confidence!
×
Questions?
Create account >

Select the payment method

>

Payment

>

Confirmation of registration
try it for free (20 flashcards)
Get full access
Greetings, farewells and courtesy phrases - Salutări, fraze de rămas b...




20 flashcards

Shopping - Cumpărături




20 flashcards

At school - La școală




19 flashcards

In a bank - Într-o bancă




20 flashcards

In a restaurant - Într-un restaurant




20 flashcards

In an interview - La un interviu




20 flashcards

At work - La muncă




20 flashcards

In a hotel - Într-un hotel




20 flashcards

Show all lessons (26)
If you are not satisfied with the product you have bought, contact us and we will reimburse your money.
Marcin Młodzki
,
board member
(Warsaw, 1st Oct 2018)
VocApp Sp. z o.o.
ul. Mielczarskiego 8/58 | 02-798 Warszawa
TAX NUMBER: PL 951 245 79 19
vocapp@vocapp.com
Address
VocApp Sp. z o.o.
ul. Mielczarskiego 8/58
02-798 Warszawa
NIP: 951 245 79 19
REGON: 369727696
Interesting facts about Romanian
Romanian language is derived from Latin and is classified as a Romance language. Latin became the primary language in Dacia, an ancient province on the territory of Romania, when the Dacians were conquered by the Romans. Romanian language has a distinctive phonology and grammar compared to other Romance languages. For example, in Romanian, the definite articles are placed after nouns. Romanian language contains many features of Latin, for example the case system, but it was also influenced by Slavic languages, as well as Greek, French and Turkish. It is spoken by over 25 million people as a native language, mostly in eastern Europe. Learning Romanian will help you interact with the locals while traveling to the Carpathians and the Black Sea. It will also help you if you want to study in a Romanian university or if you wish to work in Romania.
Learn Romanian with our course!
Our linguists prepared an entire course of useful and common Romanian phrases for you to start learning Romanian! These Romanian phrases are the basics of Romanian language. This course will teach you the Romanian phrases you will need to know in order to shop in Romania or participate in an interview. The phrases of this course will also help you order something in a restaurant or find accomodation. These Romanian phrases include greetings in Romanian, so the course will teach you how to say hello in Romanian or how to say good morning in Romanian. The greetings are some of the most basic but important phrases you should learn. Knowing how to say hello in Romanian will open many doors to you! The Romanian phrases of this course also include thank you in Romanian and how are you in Romanian. Proceed to the course to start learning the most important Romanian phrases!
Romanian phrases examples
This course includes 26 lessons with Romanian phrases on different topics and for different situations! Here are some of the Romanian phrases you will learn with this course:
1. Bună! = Hello!
2. Aș dori o cameră pentru o persoană. = I would like to get a single room.
3. Am o durere de cap puternică. = I have a severe headache.
4. Lucrez la aceasta. = I'm working on it.
5. Aș dori să fac o retragere. = I would like to make a withdrawal.
More Romanian courses
There are many professional Romanian courses on our platform! Master this course of Romanian phrases and continue developing your Romanian language skills with the Romanian for travelling course in order to learn all the Romanian phrases that will be useful in your journey. Take a look at the Romanian in 1 day and Romanian: day 2 courses to learn numbers in Romanian, courtesy phrases, how to give questions in Romanian and many more things! Learning Romanian can be easy and fun if you do it with VocApp's flaschards!
---