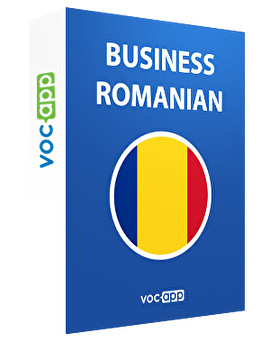 Business Romanian
Do you like the Romanian language? Do you want to expand your vocabulary and learn from different domains? Choose our VocApp course then!
Do you need to further develop your English vocabulary? Visit this course and learn words and examples.
Understand what 'Taxă pe Valoare Adăugată' means!
Be self-confident and put all your acquired knowledge into practice!
Learn in an easy and fast way vocabulary you need at the workplace!
×
Questions?
Create account >

Select the payment method

>

Payment

>

Confirmation of registration
try it for free (40 flashcards)
Get full access
Telephoning - Apelând




16 flashcards

Telephoning (phrases) - Apelând (expresii)




87 flashcards

Customer care - Asistență pentru clienți




15 flashcards

Customer care (phrases) - Asistență pentru clienți (fraze)




21 flashcards

E-mails - E-mail-uri




39 flashcards

Meetings - Întâlniri




33 flashcards

Meetings (phrases) - Întâlniri (fraze)




115 flashcards

Presentations - Prezentări




25 flashcards

Show all lessons (15)
If you are not satisfied with the product you have bought, contact us and we will reimburse your money.
Marcin Młodzki
,
board member
(Warsaw, 1st Oct 2018)
VocApp Sp. z o.o.
ul. Mielczarskiego 8/58 | 02-798 Warszawa
TAX NUMBER: PL 951 245 79 19
vocapp@vocapp.com
Address
VocApp Sp. z o.o.
ul. Mielczarskiego 8/58
02-798 Warszawa
NIP: 951 245 79 19
REGON: 369727696
Romanian language at the workplace
Do you work in a Romanian company and you want to learn Romanian, not just to improve your skills, but also to acquire knowledge that can help you at the workplace. There are a lot of things that you need to know, depending on the department you work in, but don't worry, we have a lot of Romanian courses regarding business Romanian, how to make presentations for example or Romanian words and phrases you can use in customer service, IT, HR, marketing etc. There are a lot of areas you have to work on regarding vocabulary, but it is not extremely hard to learn Romanian. The Romanian language is quite easy, being a Romance language, so it is similar to Italian, French, Spanish and even English since a lot of Romanian words used in companies come from the English language.
Learn Romanian in an easy and fast way
You have plenty of Romanian courses, but they are not to your taste, they are boring or ineffective. There is a much effective solution for you. Use flashcards to memorise and practise your pronunciation. We offer you textual, audio and visual flashcards that help you train all your skills, while you learn in an easy and fast way. You can learn Romanian words that are useful in a business background, and even how to use them in examples. But if you are not interested in our existing Romanian courses you can create your own flashcards however you like it. learn Romanian the way you find the most suitable for you, but make sure to practice all your acquired skills, right where you work. Do not be afraid or ashamed to ask a colleague during lunch break to hold a conversation with you in the Romanian language about things that pertain to work.
What other Romanian courses can you find in our app?
If you are interested to broaden your Romanian language in other domains, here is a list of Romanian courses that can help you in any domain you are interested in:
So, if you want to learn Romanian, don't hesitate to visit our website and app and use our Romanian courses or create your own flashcards with Romanian words. You will surely not regret and will learn very fast and easy.
---