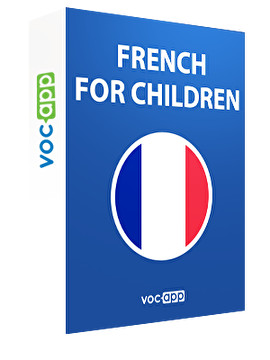 French for children
A recreational way for your children to learn French
Here are some basics and easy expressions for your children to memorise!
Whether to talk about clothes they want to wear, colours, animals and many others topics, allow your kids to express themselves daily in French with these lessons
Kids are the ones that have the least difficulty to learn a new language
The sooner, the better! So let's start this new adventure with us
×
Questions?
Create account >

Select the payment method

>

Payment

>

Confirmation of registration
try it for free (20 flashcards)
Get full access
Getting dressed (vocabulary)




44 flashcards

Getting dressed (dialogues)




23 flashcards

Time for breakfast (vocabulary)




31 flashcards

Time for breakfast (dialogues)




20 flashcards

Before going out (vocabulary)




27 flashcards

Before going out (dialogues)




16 flashcards

On a walk (vocabulary)




26 flashcards

On a walk (dialogues)




13 flashcards

Show all lessons (24)
If you are not satisfied with the product you have bought, contact us and we will reimburse your money.
Marcin Młodzki
,
board member
(Warsaw, 1st Oct 2018)
VocApp Sp. z o.o.
ul. Mielczarskiego 8/58 | 02-798 Warszawa
TAX NUMBER: PL 951 245 79 19
vocapp@vocapp.com
Address
VocApp Sp. z o.o.
ul. Mielczarskiego 8/58
02-798 Warszawa
NIP: 951 245 79 19
REGON: 369727696
Some interesting facts about the French language
The French language is a Romance language descending from Latin and it is an official in almost 30 countries across the entire world. There are about 76 million native speakers and about 235 million fluent speakers. The French language is also one of the most influential languages, being used in journalism, diplomacy, business and it is taught as a second foreign language in most schools.
Why would teaching French courses to children be beneficial?
It is a very good idea for children to learn foreign languages as soon as possible. French for children would be a wonderful idea, because the French language is one of the easiest Romance languages, also a very elegant and sophisticated language that can help them further learn other Romance languages, such as Romanian, Spanish, Portuguese or Italian because they are very similar in terms of translation and pronunciation. The French language is also among the most spoken languages in the word, and the third most spoken language in Europe, so mastering it would represent a great advantage.
How to teach the French language to children in an easy and funny way?
We all know how hard it is to maintain a child's attention for more than five minutes, that is why we have to catch their eye with something visually appealing. Our VocApp application is designed for those who do not want to just memorize a list of French words but to use them in a practical and easy-to-remember way. We offer multisensorial flashcards that will build up their basic French vocabulary throughout the use of textual, audio and visual cards. If you are interested French courses for children, we strongly recommend visiting the course French words: Top 1000 Nouns, where you can find a top list of the most common French words, along with their translation and some additional explanations. The children have the possibility of playing with various cards, images and to hear the exact pronunciation of the French words. The French for children course is designed in a funny and friendly way, with catchy images and French vocabulary made for a beginner's level. Below you may find some of the lessons that you can find in our French course:
Getting dressed-vocabulary and dialogues
Breakfast
Before going out
On a walk
In our online French courses, you will find lessons on various topics, from clothing articles names and food names, to French vocabulary regarding different types of activities. In this way, the children have the possibility of learning basic French vocabulary.
---