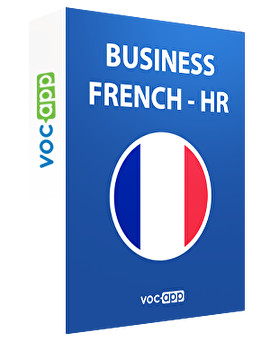 Business French - HR
Can't be caught out on French business vocabulary…
You will find all the vocabulary about human resources here!
After this course you will know the whole business vocabulary and learn useful keywords to apply for a job!
Master the french pronunciation? Piece of cake!
Study more than 800 words and expressions to become a specialist!
×
Questions?
Create account >

Select the payment method

>

Payment

>

Confirmation of registration
try it for free (40 flashcards)
Get full access
General Terms - Termes généraux




92 flashcards

Applying for a job - Postuler pour un travail




93 flashcards

Employment - Emploi




98 flashcards

Training and motivating - Formation et motivation




120 flashcards

Employees - Employés




65 flashcards

Payment and benefits - Paiement et bénéfices




103 flashcards

Development - Développement




70 flashcards

Problems and discipline - Problèmes et discipline




122 flashcards

Show all lessons (10)
If you are not satisfied with the product you have bought, contact us and we will reimburse your money.
Marcin Młodzki
,
board member
(Warsaw, 1st Oct 2018)
VocApp Sp. z o.o.
ul. Mielczarskiego 8/58 | 02-798 Warszawa
TAX NUMBER: PL 951 245 79 19
vocapp@vocapp.com
Address
VocApp Sp. z o.o.
ul. Mielczarskiego 8/58
02-798 Warszawa
NIP: 951 245 79 19
REGON: 369727696
Business French: master your French skills
The French language is the 6th most spoken language in the world with 120 million students who are currently learning French. It belongs to Romance language of the Indo-European family, together with Italian, Spanish and Portuguese. There are 29 countries in total speaking French as their official language. 76 million people speak the French language as their mother tongue. With a vast majority of French speakers in the world, French becomes the second most taught foreign language in the world. More and more people learn French for their business, making business French important with millions of French learners. Do you like to learn business French and ultimately have a chance to work in a French-spoken business? Let's go master business French! VocApp would like to offer you this Business French course to help you improve your Business French in the Human Resources field.
Learn Business French: How to do?
How hard is business French to learn? According to some reviews, French is not a hard language, but difficult to master it. To master business French, vocabulary can be seen as the most important part because probably French learners reached at least a basic level of French before going to business French. One easy method to learn business French is reading economic news in French and take note of new words to memorize it. Understanding your problem, Vocapp prepared a list of business French in flashcards ready for you to learn it. A flashcard is a smart way to learn new vocabulary and includes one word in French, its pronunciation, attractive image and active example to help you learn business French effectively. Moreover, you are always free to add your own flashcards from a real situation you have met daily!
Want more French? Check out now!
Enhancing business French is becoming much easier! To explore more about business French together with the topic HR, and you can check our other courses of French in various topics and choose your favourite ones to keep up learning French! Check out some courses here: Presentations (Business French) and IT (Business French). Make a try!
So, quickly try to learn 5 business French words below:
1.stock market = bourse
2. accountant = comptable
3. business trip = voyage d'affaires
4. financial statement = état financier
5. agreement = accord
---