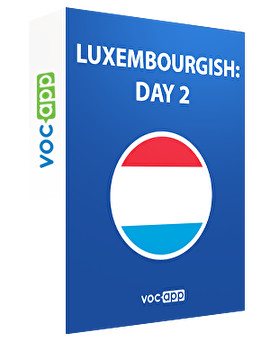 Luxembourgish: day 2
Continue learning Luxembourgish with VocApp!
Impress the natives of the only remaining grand duchy with your Luxembourgish!
Get to know useful phrases, numbers as well as important grammar points!
Improve your pronunciation with our audio lessons!
Master the language? - Méi einfach geet net!
×
Questions?
Create account >

Select the payment method

>

Payment

>

Confirmation of registration
try it for free (20 flashcards)
Get full access
Number - Nummeren




65 flashcards

Conjunctions - Konjunktiounen




23 flashcards

Places - Plazen




32 flashcards

Useful nouns - Nëtzlech Nomen




34 flashcards

Useful phrases - Nëtzlech Sätz




20 flashcards

Features - Eegenschaften




30 flashcards

Time - Zäit




26 flashcards

Typical conversation - Typesch Gespréichsthemen




15 flashcards

Show all lessons (12)
If you are not satisfied with the product you have bought, contact us and we will reimburse your money.
Marcin Młodzki
,
board member
(Warsaw, 1st Oct 2018)
VocApp Sp. z o.o.
ul. Mielczarskiego 8/58 | 02-798 Warszawa
TAX NUMBER: PL 951 245 79 19
vocapp@vocapp.com
Address
VocApp Sp. z o.o.
ul. Mielczarskiego 8/58
02-798 Warszawa
NIP: 951 245 79 19
REGON: 369727696
Why should you learn Luxembourgish?
The Luxembourgish language is not so popular, but of course, it will be really helpful if you are living in Luxembourg. If you will learn Luxembourgish, you will be able to get to know better the local culture or to talk in the Luxembourgish language when you are working. Local people love when a foreigner tries to speak in their language! This language is only spoken by less than 400,000, but if you are planning to stay in Luxembourg in the future, it will be really useful to learn Luxembourgish! In fact, in order to obtain the Luxembourgish citizenship, it is mandatory to speak the Luxembourgish language. Don't worry, f you already speak German and French, it won't be hard to learn Luxembourgish.
Thanks to this course about the Luxembourgish language you will be able to enrich your Luxembourgish vocabulary and you will learn Luxembourgish easily.
What will you learn?
You will learn Luxembourgish, you will improve your Luxembourgish language level. For example, you will learn:
1. Numbers in Luxembourgish = nummeren;
2. Places in Luxembourgish = plazes;
3. A typical conversation in the Luxembourgish language = typesch gespréichsthemen;
4. Time = zäit;
5. Some useful phrases = nëtzlech sätz.
Thanks to this course, you will be able to learn Luxembourgish and to enrich your vocabulary in the Luxembourgish language.
Then what are you waiting for? Start our course!
Thanks to our course, you will be able to improve your level of Luxembourgish language learning basic vocabulary in an easy and funny way, thanks to our flashcards. You won't even notice that you are studying! You will learn Luxembourgish without even noticing it.
Before starting this course, we recommend you to take a look also at Luxembourgish in 1 day and after finishing this course, take a glance also at Small Talk in Luxembourgish; in this way, you will have a deeper knowledge of the Luxembourgish language and you'll learn Luxembourgish. Vill Gléck!
---