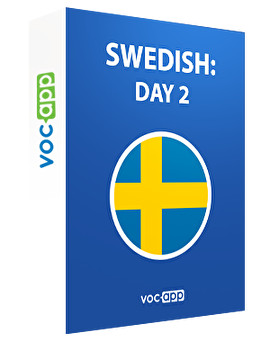 Swedish: day 2
Take the next step in your journey!
Continue learning the mother tongue of the Skarsgård family
Let your rich Swedish vocabulary shine through!
Become much more than just a beginner in Swedish
×
Questions?
Create account >

Select the payment method

>

Payment

>

Confirmation of registration
try it for free (20 flashcards)
Get full access
Untranslatable - Oöversättliga ord




12 flashcards

Things - Saker




33 flashcards

Conjunctions - Konjunktioner




23 flashcards

Grammar - Grammatik




20 flashcards

Places - Platser




33 flashcards

Useful expressions - Användbara fraser




25 flashcards

Attributes - Egenskaper




30 flashcards

Time - Tid




28 flashcards

Show all lessons (13)
If you are not satisfied with the product you have bought, contact us and we will reimburse your money.
Marcin Młodzki
,
board member
(Warsaw, 1st Oct 2018)
VocApp Sp. z o.o.
ul. Mielczarskiego 8/58 | 02-798 Warszawa
TAX NUMBER: PL 951 245 79 19
vocapp@vocapp.com
Address
VocApp Sp. z o.o.
ul. Mielczarskiego 8/58
02-798 Warszawa
NIP: 951 245 79 19
REGON: 369727696
How can you improve your Swedish language skills?
A lot of people ask themselves is Swedish hard to learn, rest assured, you can learn the Swedish language easily with VocApp! Swedish is a beautiful North Germanic language which is spoken by 10 million people. If you are interested in Swedish language and you know the fundamentals of it like the Swedish alphabet and basic Swedish words, this course is right up your alley! Thanks to this course you will learn Swedish in a fun, painless way.
How can you learn to speak Swedish fluently?
On the basis, every language is the same. There are listening, writing, and speaking aspects of language learning. If you would like to learn to speak Swedish you should know that the Swedish language is no different! What you need is constant practice! That's the key! You can't really learn a language without neglecting the other aspect. If you want to learn Swedish, you have to practice on your listening, writing and speaking skills equally. Of course, we want you to go for the quickest method to learn Swedish. We know the best way to learn the Swedish language is by using flashcards. In this way, improving your Swedish language skills is going to be inevitable!
What are the perks of learning Swedish with flashcards?
Flashcards are a very effective method to improve any language skills of yours. You will learn and memorize the words you want to know in Swedish language easily. You will not have any question in your mind about how to learn Swedish anymore! So, here are 5 reasons why you should learn Swedish with flashcards:
As we have mentioned, flashcard learning and memorizing is a very effective technique to learn Swedish. Memorizing the basic Swedish words with flashcards will give you the opportunity to boost your language skills to learn the Swedish language as slick as a whistle.
VocApp flashcards have an audio option for you to learn Swedish. So, you will know how to pronounce Swedish words just like a native speaker.
You will have a fun experience while learning when you see some common Swedish on flashcards. This will motivate you to learn Swedish and practice more.
Flashcards improve your learning curve and your ability to remember words. This will give you the privilege to learn the Swedish language fast!
Learning anything with Flashcards is possible, especially to learn Swedish!
So, you have decided to learn the Swedish language and you know how you are going to do it! Continue with our fun flashcard courses like Everyday phrases in Swedish and Swedish Words: Top 1000 Nouns. Either you learn Swedish or learn another beautiful Scandinavian language, VocApp will be with you to help you out and to make your learning experience a lot more fun!
---