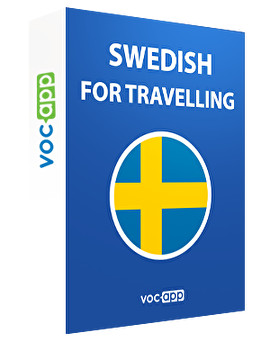 Swedish for travelling
Impress locals with your competence in Swedish!
Are you planning a trip to the land of the midnight sun and a thousand lakes?
You may think that all Swedes speak English but in fact speaking Swedish opens up a whole new world of travel that you wouldn't otherwise experience!
Learn words and phrases to use when e.g. at the airport, hiking in the mountains or using public transport
This course also offers lessons that give tips relevant for travel in Sweden and descriptions of some of the most popular tourist destinations that you may want to visit!
×
Questions?
Create account >

Select the payment method

>

Payment

>

Confirmation of registration
try it for free (20 flashcards)
Get full access
Plane - Flygplan




45 flashcards

Car - Bil




39 flashcards

Hitchhiking - Liftning




10 flashcards

Long-distance bus - En långdistansbuss




24 flashcards

City bus - Stadsbuss




17 flashcards

Train - Tåg




33 flashcards

Ferry - Färja




10 flashcards

Hiking - Vandring




26 flashcards

Show all lessons (18)
If you are not satisfied with the product you have bought, contact us and we will reimburse your money.
Marcin Młodzki
,
board member
(Warsaw, 1st Oct 2018)
VocApp Sp. z o.o.
ul. Mielczarskiego 8/58 | 02-798 Warszawa
TAX NUMBER: PL 951 245 79 19
vocapp@vocapp.com
Address
VocApp Sp. z o.o.
ul. Mielczarskiego 8/58
02-798 Warszawa
NIP: 951 245 79 19
REGON: 369727696
A trip to Sweden
Many people start learning basic Swedish phrases to prepare for an upcoming trip to Sweden. It's a great idea since it will help you understand Swedish culture better and interact with the locals. If you're also one of them, learn some Swedish phrases to impress people when you will visit Sweden! Here are some reasons to visit Sweden that will keep you motivated:
1. There are many impressive museums in Sweden, for example, the ABBA Museum or the Vasa Museum. You will find something interesting to see in this country, whether you're passionate about music, paintings, history or something else!
2. Sweden is a very safe country, that's why many people go on trips to Sweden.
3. If you want a deeper connection with nature, you will find many fascinating national parks in Sweden!
4. Sweden is the perfect place to see the rare phenomenon of Aurora Borealis!
5. Swedish people are very happy and hospitable. Visiting Sweden is a chance to make many new friends and experience intercultural connections.
How to prepare for the upcoming trip?
One of the important points when it comes to a trip is learning some basic vocabulary. Our course was created especially for you to learn the most important Swedish phrases. Our linguists chose only the most useful Swedish phrases and added them to this course. You will learn Swedish phrases to use on a plane when taking a ferry or hitchhiking. There is a special lesson with places that are worth visiting in Sweden and one with tips when travelling to Sweden. Each of the flashcards will introduce you to a Swedish phrase along with its Swedish to English translation. This will help you understand the Swedish phrase better and know how to use it. Moreover, you will practice your Swedish pronunciation with our flashcards! The lector will read each Swedish phrase and you can repeat them to make sure people will understand you! Proceed to our professional course to learn important Swedish phrases!
Continue learning Swedish
There are many courses with Swedish phrases and important Swedish words on our platform! You can download our fun app in order to learn more conveniently! If you're interested to learn basic Swedish phrases and words, take a look at the courses Swedish in 1 day and Swedish: day 2. With their use, you will learn courtesy phrases, verbs, useful nouns, how to ask questions, how to count in Swedish and much more! All of the Swedish words and phrases include their Swedish to English translation and pronunciation. The course Everyday phrases in Swedish includes even more common Swedish phrases to use in a hotel, in a restaurant or while shopping in Sweden. You will also find courses dedicated to the most frequently used verbs, adjectives and nouns in Swedish on our site and on Swedish for children. Learn Swedish phrases for your trips, career or studies! Start the course to discover many interesting learning modes and other special features!
---