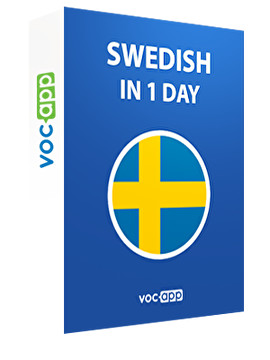 Swedish in 1 day
Learn basic Swedish without effort
Give yourself a chance to talk with the Skarsgård family in their native language - learn some basic Swedish words and phrases
Get to know some basic grammar rules and understand how to use them in practice
Don't be afraid of Swedish pronunciation - our recordings will help you master it
Having a simple conversation in Swedish would be "inget problem" for you!
Sign up for free
This course is 100% free. We want to show you how fast & easy you can learn with us.
10 words in 10 seconds - 10 ord på 10 sekunder




10 flashcards

You already know that:) - Det känner du redan:)




10 flashcards

Questions - Frågor




11 flashcards

Courtesy phrases - Hövlighet




18 flashcards

People - Personer




28 flashcards

Activities - Handlingar




31 flashcards
Things to know about Swedish
There are many dialects in Swedish and some of them are so different that are considered as separate languages. Here are some of the Swedish language dialects: Jamtlandic, Gutnish, Scanian. They are spoken in different regions and are part of some groups of dialects. Most of the Swedish words begin with the letter S. More than that, the word Sweden means kingdom. The Swedish language is close to Norwegian and Danish, meaning that if you learn Swedish, you somehow learn all these 3 languages at a time. There are many interesting facts about this beautiful language that is definitely worth studying! Learn Swedish with our easy and fun method and achieve all your goals related to this language!
Swedish for beginners
Interested in learning the Swedish language? Fascinated by the Scandinavian languages? With VocApp's language courses you can learn Swedish in an effective and entertaining way using flashcards and different study modes including pictures, example sentences, and recordings on how to pronounce different Swedish phrases. VocApp's learning methods combine several senses – visual learning with pictures, audiovisual learning with the pronunciation recordings and so on - which will improve the learning process significantly. Also, the VocApp language learning app offers you a great opportunity to start learning Swedish phrases and important Swedish words. With our "Swedish in one day" course, you will learn Swedish language basics in an easy and entertaining way. Our multi-sensory learning methods are the best way to learn Swedish.
Learn Swedish phrases
This flashcard course will teach you the most important Swedish phrases and words. It includes the most useful Swedish phrases, such as Swedish greetings with their Swedish to English translations and pronounciation. These Swedish phrases will be extremely useful for every learner that started learning Swedish. Whether you want to visit Sweden or move there to work or study, this is the course to start from! Find some examples of common Swedish phrases and basic Swedish words that you will learn with this course:
1. Jag är student. = I am a student.
2. Det är mycket intressant. = It is very interesting.
3. en fru = wife
4. ett barn = child
5. Förlåt. = I'm sorry.
Have doubts to follow this course or not? Just proceed to learning the Swedish phrases and try to use them next time you're in Sweden. You will see how happy will people be when they'll hear you speaking Swedish. You'll show your respect for the local language and impress Swedish people. These Swedish phrases will make it easier for you to start a conversation with a local and become friends.
Learning Swedish has never been so easy and fun!
Looking for more great Swedish courses? You can find them on our platform and in our app! Our professional linguists prepared many Swedish resources to help you learn Swedish. Learn the Swedish phrases of this course and continue with the Swedish: day 2 course. It will teach you more Swedish phrases and important Swedish words related to time, things, basic grammar. The Swedish for travelling is the perfect course for those wishing to visit Sweden and speak to the locals! It will teach you how to buy a ticket or order food in Swedish. Find at least 5 minutes a day to learn Swedish with our flashcards and observe the great progress!
---