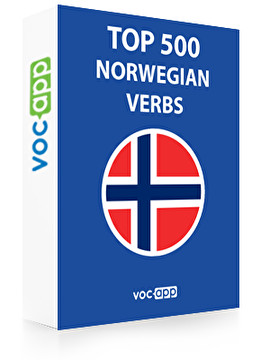 Norwegian Words: Top 500 Verbs
Speak Norwegian with confidence
Learn how to use the words in context
Expand your active vocabulary
Learn the correct pronunciation with mp3 recordings
Remember forever thanks to our Spaced Repetition System
×
Questions?
Create account >

Select the payment method

>

Payment

>

Confirmation of registration
try it for free (20 flashcards)
Get full access
500 most important Norwegian verbs 1 - 25




25 flashcards

500 most important Norwegian verbs 26 - 50




25 flashcards

500 most important Norwegian verbs 51 - 75




25 flashcards

500 most important Norwegian verbs 76 - 100




25 flashcards

500 most important Norwegian verbs 101 - 125




25 flashcards

500 most iportant Norwegian verbs 126 - 150




25 flashcards

500 most important Norwegian verbs 151 - 175




25 flashcards

500 most important Norwegian verbs 176 - 200




25 flashcards

Show all lessons (20)
If you are not satisfied with the product you have bought, contact us and we will reimburse your money.
Marcin Młodzki
,
board member
(Warsaw, 1st Oct 2018)
VocApp Sp. z o.o.
ul. Mielczarskiego 8/58 | 02-798 Warszawa
TAX NUMBER: PL 951 245 79 19
vocapp@vocapp.com
Address
VocApp Sp. z o.o.
ul. Mielczarskiego 8/58
02-798 Warszawa
NIP: 951 245 79 19
REGON: 369727696
Fun facts about the Norwegian language
There are three letters in the alphabet of the Norwegian language that are different from the letters you're used to: å, æ and ø. The same letters can be found in Danish. The Norwegian language has a lot of dialects. It is because of the mountains in the country that isolated groups of people. Dialects also can be different from city to city even if the cities are close. These dialects are also difficult to understand to some locals. An interesting dialect appeared in Norway at the end of the 20th century called "Kebab Norwegian". It is because many people immigrated from the East and mixed Arabic, Spanish, Turkish and not only words with Norwegian. There are many more interesting things to discover about the beautiful and unique Norwegian language. Learn Norwegian online with our platform to impress the natives!
Norwegian vocabulary
Get ready to improve your Norwegian vocabulary with this course of Norwegian verbs! With VocApp's Norwegian verbs course, you will support your Norwegian language studies and memorize more and more useful Norwegian words. Each Norwegian verb will have an example sentence for it and the Norwegian to English translation, which will help you understand the meaning of it better. Moreover, the flashcards will present you pictures for the verbs to make it easier for you to remember the new words. Don't worry about the pronunciation of the Norwegian verbs! Our lector will pronounce each word to help you learn it! Want to say you're doing something or you like something, or maybe that you love something in Norwegian? VocApp will teach you these words and a great variety of other Norwegian verbs that will significantly boost your Norwegian language skills. With this Norwegian verbs list, you will be able to communicate with Norwegian people in their native language effortlessly. You will not only improve your vocabulary but also gain more confidence the more you learn Norwegian language. With this list of Norwegian verbs, you will not have moments when you can't say what you want to! You will also understand the Norwegian verb conjugation better! Here are some of the verbs we included in this Norwegian language course:
1. å skrive; skriver = to write
2. å ha; har = to have
3. å vite; vet = to know
4. å like; liker = to like
5. å komme; kommer = to come
App to learn Norwegian
If you're tired of language learning apps that do not give results or if you haven't found the right Norwegian language courses for you - VocApp will help you! VocApp is the best way to learn Norwegian because flashcards were proven to be very effective in language learning! Our learning method will give you fast results when learning Norwegian! The studying method is based on multi-sensory learning which works better than most of the traditional language courses. Study the Norwegian language regularly to get the best results. Download our app and set notifications at a chosen time to remind you that it's time to study. Check and memorize this list of Norwegian verbs and you will improve your Norwegian language skills by familiarizing yourself with a huge variety of new verbs. After studying this vocabulary list, you will be able to form more and more Norwegian phrases in no time! Continue improving your Norwegian language vocabulary with our other professional courses: Norwegian Words: Top 300 Adjectives and Norwegian Words: Top 1000 Nouns.
---