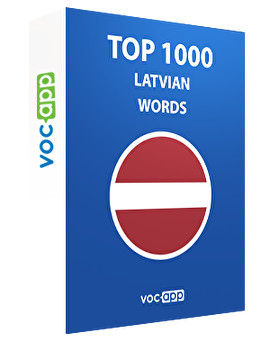 Top 1000 Latvian Words
Remember the most commonly used Latvian words in no time!
Master the language of Kremer and Apkalna
Discover what do "labs", "domāt" and "vīrietis" mean
Learn how to use the new vocabulary thanks to example sentences
You'll never be at a loss for words after this course!
×
Questions?
Create account >

Select the payment method

>

Payment

>

Confirmation of registration
try it for free (50 flashcards)
Get full access
Top 1000 Latvian Words 1 - 50




50 flashcards

Top 1000 Latvian Words 51 - 100




50 flashcards

Top 1000 Latvian Words 101 - 150




50 flashcards

Top 1000 Latvian Words 151 - 200




50 flashcards

Top 1000 Latvian Words 201 - 250




50 flashcards

Top 1000 Latvian Words 251 - 300




50 flashcards

Top 1000 Latvian Words 301 - 350




50 flashcards

Top 1000 Latvian Words 351 - 400




49 flashcards

Show all lessons (20)
If you are not satisfied with the product you have bought, contact us and we will reimburse your money.
Marcin Młodzki
,
board member
(Warsaw, 1st Oct 2018)
VocApp Sp. z o.o.
ul. Mielczarskiego 8/58 | 02-798 Warszawa
TAX NUMBER: PL 951 245 79 19
vocapp@vocapp.com
Address
VocApp Sp. z o.o.
ul. Mielczarskiego 8/58
02-798 Warszawa
NIP: 951 245 79 19
REGON: 369727696
Have you ever considered to learn Latvian?
The Latvian language is the language spoken in Latvia, a country in north-eastern Europe. It belongs to the family of Indo-European languages, in particular to the Baltic group. It is considered to be one of the most ancient languages in Europe.
Why would you decide to learn such an interesting language? Maybe you've decided to go on vacation to Latvia with your friends and you want to learn some Latvian words to make the most of this opportunity. Maybe you got a really good job offer for which you're required to learn Latvian. Or maybe you're just very interested in the history and culture of this small European country.
Here's a list of reasons why you should learn Latvian:
1. There are Latvian communities all over the world so that it will be useful not only to use in Latvia. Such communities are found in countries like the UK, the US, Australia, Ireland, Canada and so on;
2. If you happen to go to Latvia, you will notice that most of its population doesn't speak English, so a little knowledge of Latvian words will always come in handy!
3. In the Latvian language, there are seven cases, making it a little bit harder than English, but it will also be a new and interesting way of looking at the structure of different languages which are so different from our own;
4. On a lighter note, the Latvian language has no articles, so that it will be easier to decline Latvian words;
5. Learning a new language also means learning about its culture and traditions. Without knowing it, you probably would not understand some of the many expressions and figures of speech typical of that language. So, by learning Latvian, you will also have a broader understanding of the world.
Why you should learn Latvian with VocApp
The best method to learn a language is with flashcards, and VocApp is specialised in this field. Flashcards are very easy to use, if you are new to this way of learning and you find it difficult to learn languages in the more traditional way, then we recommend you try this method. If, in particular, you're inclined to learn Latvian, you can start with our Latvian in 1 day course. You will begin with the basics of the Latvian language and, once you'll become more familiar with it and you'll want to know more Latvian words, you can also try other courses offered by our site/app, like Small talk in Latvian and Everyday phrases in Latvian. By learning Latvian, you'll be able to engage in easy conversations with native speakers using the knowledge you've gained through the use of this simple method and you'll have gained new communication skills!
---