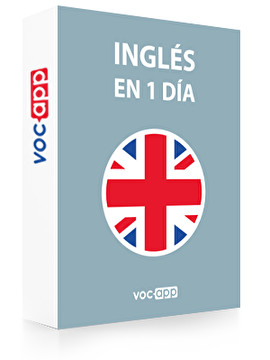 Inglés en 1 Día
Domina Inglés básico en solo 1 día.
Ahorrarás mucho tiempo gracias a nuestro sistema de repaso inteligente.
Mejorarás tu pronunciación con los audios incluidos en las tarjetas.
Podrás descargar el curso en mp3 y aprender en cualquier sitio.
Tendrás disponible el curso también en tu móvil.
Sign up for free
This course is 100% free. We want to show you how fast & easy you can learn with us.
10 Palabras en 60 segundos - 10 Words in 60 Seconds




10 flashcards

Esto ya lo conoces:) - You already know that:)




11 flashcards

Preguntas - Questions




13 flashcards

Frases de Cortesía - Courtesy Phrases




19 flashcards

Frases Útiles - Useful Phrases




25 flashcards

Personas - People




32 flashcards

Las actividades - Activities




35 flashcards

Sustantivos Útiles - Useful Nouns




36 flashcards

Adjetivos útiles - Useful Adjectives




30 flashcards

El Espacio - Space




31 flashcards

Palabras útiles - Useful Words




26 flashcards

Lo intraducible - Untranslatable




15 flashcards

El tiempo - Time




33 flashcards

Los Numerales - Numbers




27 flashcards

La gramática extremadamente simplificada - Easy Grammar




46 flashcards

ser, estar, tener - to be, to have




72 flashcards

Una conversación típica del manual;) - A Typical Conversation From a S...




15 flashcards

Jerga, palabrotas y fraseologismos - Slang, Curses and Idioms




14 flashcards

Empezamos la conversación - Poking People




6 flashcards

Estudiamos las cosas nuevas - We learn new things.




15 flashcards

Unas pocas sugerencias - Tips




11 flashcards
---