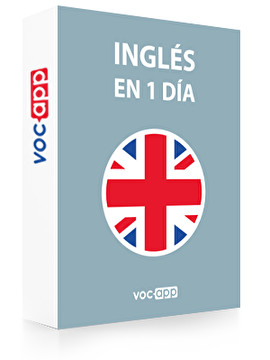 Inglés en 1 día
Domina Inglés básico en solo 1 día.
Ahorrarás mucho tiempo gracias a nuestro sistema de repaso inteligente.
Mejorarás tu pronunciación con los audios incluidos en las tarjetas.
Podrás descargar el curso en mp3 y aprender en cualquier sitio.
Tendrás disponible el curso también en tu móvil.
Sign up for free
This course is 100% free. We want to show you how fast & easy you can learn with us.
10 Palabras en 60 segundos - 10 Words in 60 Seconds




10 flashcards

Esto ya lo conoces:) - You already know that:)




11 flashcards

Preguntas - Questions




13 flashcards

Frases de Cortesía - Courtesy Phrases




19 flashcards

Frases Útiles - Useful Phrases




25 flashcards

Personas - People




32 flashcards

Las actividades - Activities




35 flashcards

Sustantivos Útiles - Useful Nouns




36 flashcards

Adjetivos útiles - Useful Adjectives




30 flashcards

El Espacio - Space




31 flashcards

Palabras útiles - Useful Words




26 flashcards

Lo intraducible - Untranslatable




15 flashcards

El tiempo - Time




33 flashcards

Los Numerales - Numbers




27 flashcards

La gramática extremadamente simplificada - Easy Grammar




46 flashcards

ser, estar, tener - to be, to have




72 flashcards

Una conversación típica del manual;) - A Typical Conversation From a S...




15 flashcards

Jerga, palabrotas y fraseologismos - Slang, Curses and Idioms




14 flashcards

Empezamos la conversación - Poking People




6 flashcards

Estudiamos las cosas nuevas - We learn new things.




15 flashcards

Unas pocas sugerencias - Tips




11 flashcards
Inglés en 1 Día
Aquí os presentamos el mejor curso de inglés en un día del mercado. En el hemos puesto toda la gramática y vocabulario básico del inglés para que puedas manejarte y formar frases básicas en este bonito idioma. Este curso te será muy útil especialmente si vas a ir unos días al extranjero o si quieres empezar a asentar las bases de este idioma para ampliarlo posteriormente. El curso inglés en un día esta diseñado de forma que cuando acabes de estudiarlo, hayas aprendido nuevas palabras y aún te acuerdes de todo lo que has visto. Únete a este curso y no te arrepentirás, para crear este curso hemos usado un sistema de aprendizaje con targetas que esta demostrado que hará que memorices y no se te olvide nada de lo que has aprendido.
El inglés, el idioma internacional
El inglés es conocido como el idioma internacional que se habla prácticamente en todos los países. Por eso aquí te ofrecemos la oportunidad de iniciarte en este maravilloso mundo y empezar a aprender este idioma qe te permitirá comunicarte con muchas personas en cualquier país. Este curso posee el vocabulario básico para que puedas ir a Londres o Estados Unidos sin ningún problema y poder comunicarte con sus ciudadanos. ¿Te gustaría empezar a entender las canciones de ¨Oasis¨ o ¨Aerosmith¨? Pues no lo pienses más y aprovecha esta oferta única para iniciarte en este bonito mundo. Aunque no quieras salir de tu país natal siempre es bueno aprender inglés, ya que te abre las puertas de nuevas oportunidades de trabajo y mejor pagadas. ¿Te gustaría ir al campo del Liverpool y poder realizar sus cánticos y animarles junto con el resto de aficionados. Pues aquí te damos la oportunidad de empezar a aprender este idioma a un precio reducido y con un método muy avanzado.

Te puede interesar también: Sustantivos más importantes en inglés
---