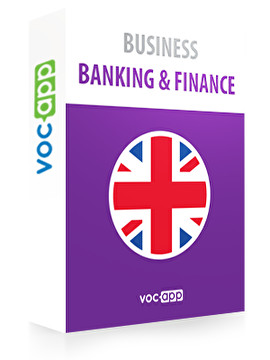 Business Banking & Finance (Business English)
Mejora tus habilidades comunicativas y confianza profesional.
Más de mil palabras y frases útiles sobre finanzas
Dividido en unidades prácticas (Activos, impuestos, banking...)
Sientete seguro y profesional
Practica escuchando, escribiendo y haciendo tests
Disponible también en tu móvil o tablet
×
Questions?
Create account >

Select the payment method

>

Payment

>

Confirmation of registration
try it for free (40 flashcards)
Get full access
Basic Concepts




30 flashcards

Forms of Business




30 flashcards

General Business Collocations




30 flashcards

Financial Institutions




44 flashcards

Documents




43 flashcards

Assets




35 flashcards

Cash Flow




19 flashcards

Financial Statement




43 flashcards

Show all lessons (19)
If you are not satisfied with the product you have bought, contact us and we will reimburse your money.
Marcin Młodzki
,
board member
(Warsaw, 1st Oct 2018)
VocApp Sp. z o.o.
ul. Mielczarskiego 8/58 | 02-798 Warszawa
TAX NUMBER: PL 951 245 79 19
vocapp@vocapp.com
Address
VocApp Sp. z o.o.
ul. Mielczarskiego 8/58
02-798 Warszawa
NIP: 951 245 79 19
REGON: 369727696
Business banking & finance english
En este curso de vocabulario de business banking & finance, aprenderás las palabras más importantes y usadas en el ambiente de trabajo, en lo bancos o en cualquier lugar donde se realicen negocios, lo cuál permitirá desenvolverte de forma fluida y fácil en cualquier empresa internacional o nacional.
En nuestra app, vocapp, utilizamos una forma enfocada en tarjetas, el cual esta probado que funciona mil veces mejor que cualquier otro método existente en la actualidad en el mercado. De esta forma, es más fácil memorizar y recordar las palabras nuevas aprendidas en este curso, no se trata de otro método decepcionante y aburrido como los que existen en la actualidad en internet.
Además, este curso incluye vocabulario en inglés de negocios que te ayudará mucho a la hora de ampliar y mejorar tu vocabulario en este bonito idioma.
Vocabulario en inglés de administración y finanzas
¿Te gustaría aprender el vocabulario inglés para negocios internacionales, y poder así, trabajar en cualquier lugar del mundo sin ningún problema? Pues no busques más, accede ya a este curso y empieza a aprender desde cualquier lugar del mundo, no lo dudes más.
¿Te gustaría poder trabajar el la famosa bolsa de Wall Street de Nueva york? ¿te gustaría entender las charlas de Steve Jobs?
Pues no busques más, aquí te presentamos un curso por el que podrías empezar, no dejes escapar esta oportunidad y dejanos ayudarte a conseguir tus objetivos.
Si lo que te gustan son las finanzas, aquí podrás aprender todo el vocabulario de finanzas en inglés necesario para trabajar en este sector
Te puede interesar también: Business Presentations (Business English)
---