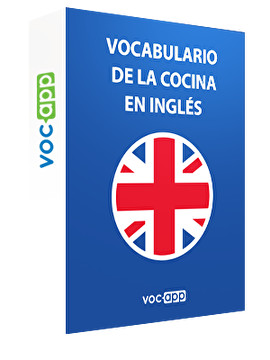 Vocabulario de cocina en inglés
Pásame el… me gustaría tomar un… ¡ya es hora de aprender vocabulario de cocina!
¿Quieres hacer llegar tus recetas a todos? ¿Trabajar en un equipo de cocina internacional?
Frutas, verduras, platos tradicionales… aprende cientos de palabras con Vocapp
!No solo eso! Los distintos electrodomésticos, utensilios de cocina, verbos más comunes…
Te enseñaremos a hablar con propiedad dentro de una cocina.
Sign up for free
This course is 100% free. We want to show you how fast & easy you can learn with us.
Frutas - Fruits




37 flashcards

Verduras - Vegetables




38 flashcards

Verbos - Verbs




25 flashcards

Utensilios de cocina - Kitchen appliances




18 flashcards

Bebidas - Drinks




13 flashcards

Especias - Spices




35 flashcards

Sabor - Flavour




10 flashcards

Platos típicos ingleses - Typical british dishes




11 flashcards

Trifle paso a paso - Trifle step-by-step




14 flashcards
---