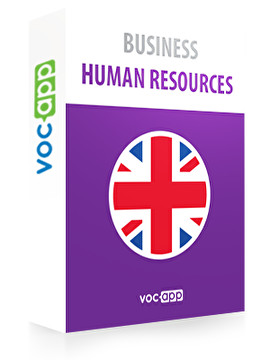 Human Resources (Business English)
Domina todo tipo de entrevistas y consigue el trabajo de tus sueños.
Más de 800 palabras y frases útiles
Dividido en unidades prácticas (Pagos y beneficios, empleo, desarrollo...)
Sientete seguro y profesional
Practica escuchando, escribiendo y haciendo tests
Disponible también en tu móvil o tablet
×
Questions?
Create account >

Select the payment method

>

Payment

>

Confirmation of registration
try it for free (40 flashcards)
Get full access
General Terms




92 flashcards

Applying for a Job




93 flashcards

Employment




98 flashcards

Training and Motivating




120 flashcards

Employees




65 flashcards

Payment and Benefits




103 flashcards

Development




70 flashcards

Problems and Discipline




122 flashcards

Show all lessons (10)
If you are not satisfied with the product you have bought, contact us and we will reimburse your money.
Marcin Młodzki
,
board member
(Warsaw, 1st Oct 2018)
VocApp Sp. z o.o.
ul. Mielczarskiego 8/58 | 02-798 Warszawa
TAX NUMBER: PL 951 245 79 19
vocapp@vocapp.com
Address
VocApp Sp. z o.o.
ul. Mielczarskiego 8/58
02-798 Warszawa
NIP: 951 245 79 19
REGON: 369727696
Human Resources
Aquí encontrarás todo lo necesario para aprender el vocabulario sobre recursos humanos en inglés y poder manejarte en este ambiente. Este curso te permitirá aprender el vocabulario mínimo para desempeñar bien tu tarea en un departamento de recursos humanos de habla inglesa. En actualidad, simplemente por el hecho de saber inglés, puedes acceder a más puestos de trabajo y mejor remunerados aunque sepas hablar el idioma natal. Así que no pierdas más el tiempo y aprovecha esta oportunidad única. En vocapp utilizamos un método basado en tarjetas, y el cual esta demostrado que funciona mucho mejor que cualquier otro método, y que ayuda a mantener y no olvidar las nuevas palabras aprendidas. ¿Tu objetivo es ser director de recursos humanos en el extranjero? Pues tu punto de partida para serlo deberia ser este curso, aquí aprenderás vocabulario y expresiones que te permitirán ser el mejor director que haya existido.
Human Resources, vocabulario que te puede abrir las puertas a nivel internacional
En la actualidad hay muchas empresas internacionales que buscan gente de distintos países para aumentar sus empleados en recursos humanos y obtener distintos puntos de vista o obtener información acerca de las ventajas y desventajas de los distintos países, así que si quieres trabajar fuera, aprender este vocabulario te puede ser de gran ayuda. El inglés es un idioma muy importante en el mundo, con el podrás entender libros como ¨Charles Dickens¨ o ¨William Shakespeare¨, y llegar a comunicarte con entre 500 mil o 600 mil personas en el mundo, y todo esto sin contar la cantidad de ofertas de trabajo a las que podrás acceder. Es decir, aprender este idioma te permitira moverte a cualquier país, aunque no sea angloparlante, y poder siempre encontrar a alguien con el que poder comunicarte.
Te puede interesar también: Business Banking & Finance (Business English)
---