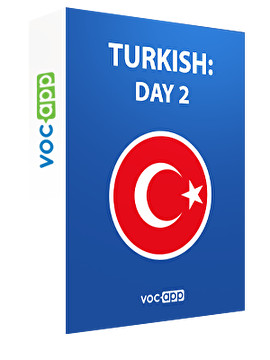 Turkish: day 2
It's time to get to know the most important phrases!
Are you interested in this unique language?
Do you want to speak one of the most difficult languages in the world?
Surprise the locals and bargain in Turkish: İndirim yapar mısınız?
×
Questions?
Create account >

Select the payment method

>

Payment

>

Confirmation of registration
try it for free (20 flashcards)
Get full access
Useful verbs - Yaygın fiiler




11 flashcards

Numbers - Sayılar




32 flashcards

And, or, from, because... - bağlaçlar




16 flashcards

Places - yer-mekan




26 flashcards

Adjectives - sıfatlar




26 flashcards

Colours - renkler




10 flashcards

Useful phrases - Kullanışlı ifadeler




18 flashcards

Basic grammar - Temel dilbilgisi




12 flashcards
If you are not satisfied with the product you have bought, contact us and we will reimburse your money.
Marcin Młodzki
,
board member
(Warsaw, 1st Oct 2018)
VocApp Sp. z o.o.
ul. Mielczarskiego 8/58 | 02-798 Warszawa
TAX NUMBER: PL 951 245 79 19
vocapp@vocapp.com
Address
VocApp Sp. z o.o.
ul. Mielczarskiego 8/58
02-798 Warszawa
NIP: 951 245 79 19
REGON: 369727696
Interesting facts about the Turkish language
The Turkish language is a Turkic language, spoken by over 70 million people globally. It was influenced by such languages as French and Arabic. A special characteristic of the Turkish language is that it's an agglutinative language, meaning that in order to form a phrase, you will need to add prefixes and suffixes instead of words. Also, there are two classes of vowels in Turkish: hard and soft vowels. The final vowel of the root word decides whether it will be followed by a suffix with soft or hard vowels. This is called vowel harmony. There is no grammatical gender in Turkish, as well, nouns don't have cases in Turkish which makes it easier to learn basic Turkish. More than 80% of the Turkish vocabulary is of Turkish origin but there are also words that come from other languages. It's time to get to practice and learn some basic Turkish! It's not as difficult as you think and our flashcards will prove it to you!
Learn basic Turkish
Turkey is a major political force and a big player in international relations and business. Learning Turkish will bring greater opportunities in your career and studies. If you will know basic Turkish, you will travel, meet new people and learn more about the Turkish culture. The easiest way to learn basic Turkish is with our multisensory learning method and our flashcards. This course was created by professional linguists who want to introduce you to basic Turkish and who included useful Turkish phrases and words on several topics:
1. Useful verbs as düşünmek, kalkmak and more
2. Numbers in order to help you learn to count in Turkish
3. Useful Turkish phrases so you will know how to say that you need help or how to buy a ticket
4. Places and building names
5. Basic grammar (the word order, the possessive form and more)
This course includes many more Turkish phrases on different topics. Proceed to learning in order to enrich your basic Turkish vocabulary and be able to start a Turkish conversation yourself!
More Turkish flashcards
This is not the only basic Turkish course we have on our site! There is the Turkish in 1 day course that includes basic Turkish vocabulary such as courtesy phrases, days and months and more! If you want to learn Turkish on a more advanced level, take a look at our Turkish Words: Top 500 Verbs course that will help you master the most important and commonly used Turkish verbs! This will allow you to form your own sentences or Turkish phrases! You can continue with the courses of Turkish nouns and adjectives to significantly improve your Turkish! Learn basic Turkish with VocApp and impress your friends and family!
---