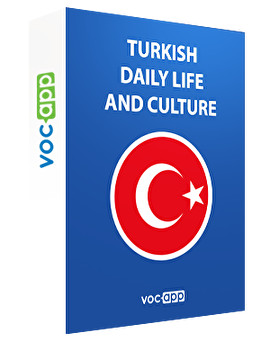 Turkish daily life and culture
Get to know Turkey with VocApp
Merhaba! Start your journey to Turkey here!
Explore the attractions, festivals and cultural traditions
Dive into one of the richest cuisines in the world!
Don't feel like an alien! Learn some useful Turkish phrases and cultural habits.
Sign up for free
This course is 100% free. We want to show you how fast & easy you can learn with us.
Places to visit




21 flashcards

Must Try Food




15 flashcards

Useful phrases




14 flashcards

DO & DON'Ts




14 flashcards

Cultural events/ festivals




8 flashcards

Famous musicians




13 flashcards

Famous authors




9 flashcards

Movies




10 flashcards

Sports




11 flashcards
---