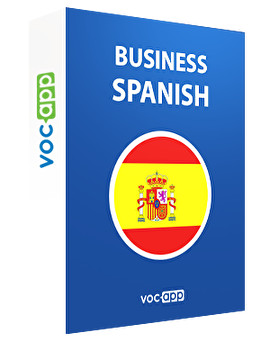 Business Spanish
Business Spanish is here to help you in your professional life!
No more missing words during the meetings
Become more confident in both professional and private life (take a look at "Socializing & small talk" lesson)
Get to know a diverse vocabulary from different fields (Accounting, Human Ressources, Sales…)
Let yourself look smarter!
×
Questions?
Create account >

Select the payment method

>

Payment

>

Confirmation of registration
try it for free (40 flashcards)
Get full access
Telephoning - Llamando




16 flashcards

Telephoning (phrases) - Llamando (frases)




87 flashcards

Customer care - Atención al cliente




15 flashcards

Customer care (phrases) - Atención al cliente (frases)




21 flashcards

E-mails - E-mails




39 flashcards

Meetings - Las reuniones




34 flashcards

Meetings (phrases) - Las reuniones (frases)




116 flashcards

Presentations - Las presentaciones




25 flashcards

Show all lessons (14)
If you are not satisfied with the product you have bought, contact us and we will reimburse your money.
Marcin Młodzki
,
board member
(Warsaw, 1st Oct 2018)
VocApp Sp. z o.o.
ul. Mielczarskiego 8/58 | 02-798 Warszawa
TAX NUMBER: PL 951 245 79 19
vocapp@vocapp.com
Address
VocApp Sp. z o.o.
ul. Mielczarskiego 8/58
02-798 Warszawa
NIP: 951 245 79 19
REGON: 369727696
Why is it important to learn Spanish?
Did you know that Spanish is the second most spoken language in the world? Spanish is the official language of 22 countries, the second most important diplomatic language and the third most used language on the Internet. In addition, major world organizations such as the UN, UNESCO and MERCOSUR have adopted Spanish as one of the official languages. Spanish is known to be one of the fastest languages in the world. The Spanish language is in full growth. Spanish is one of the most used languages in the business world, as such, Latin America is becoming a region of vital business importance. Speaking Spanish helps to deepen the knowledge of Latin culture by promoting a deeper understanding of its culture and history. Several works of the modern era were created by artists of Spanish origin, such as Miguel Cervantes, famous book Don Quijote, Guillerme del Toro and Spanish director Pedro Almodôvar. There is a multitude of untranslated books, events or specialized websites that have Spanish as their official language and can only be enjoyed in their entirety with the knowledge of the language.
How to learn Spanish for Business?
With this Spanish for Business course, you will be able to negotiate in the most diverse situations. For this, we divided in several lessons, for example, Human Resources, Marketing and Advertising, sales and purchases and much more.
You can manage your time and learn at your own pace. With the help of memory cards, it will be easier to memorize and learn Spanish phrases for business. This course is a way to learn Spanish in a fun way. You will have access to varied vocabulary, you will be able to learn the most used Spanish words, basic Spanish words and Spanish phrases for business. With this app for learning Spanish for business, you will not lack reasons to learn Spanish in a practical and intuitive way. Learn Spanish may seem an impossible task, but thanks to our memorization system, it is easier to memorize Spanish phrases, Spanish words, thanks to the selection that Vocapp's team made of the words most used in Spanish for business.
Learn Spanish words and phrases
Here are some of the Spanish words and phrases this course includes:
1. rechazar una reunión = to put off a meeting
2. Le escribo para informarle que... = I am writing to let you know...
3. Gracias por su atención. = Thank you for listening.
4. ¿Podríamos acordar una reunión? = Can we arrange a meeting?
5. Lo siento, en ese caso no puedo. = Sorry, I can't make it then.
Continue improving your vocabulary with our courses: Spanish Verb Phrases and Spanish Words: Top 500 Verbs.
---