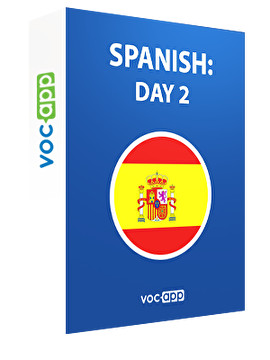 Spanish: day 2
Take the next step in your journey!
Continue your learning with VocApp
Get to know some useful expressions and basic grammar
Understand Spanish music and series better
Become Enrique Iglesias for one day!
×
Questions?
Create account >

Select the payment method

>

Payment

>

Confirmation of registration
try it for free (19 flashcards)
Get full access
Useful expressions - Expresiones útiles




25 flashcards

Things - Cosas




31 flashcards

Attributes - Cualidades




30 flashcards

Space - Espacio




31 flashcards

And, or, but, so - Y, o, pero, así que




26 flashcards

Time - Tiempo




33 flashcards

Numbers - Números




27 flashcards

Extremely simplified grammar - Gramática extremadamente simplificada




12 flashcards
If you are not satisfied with the product you have bought, contact us and we will reimburse your money.
Marcin Młodzki
,
board member
(Warsaw, 1st Oct 2018)
VocApp Sp. z o.o.
ul. Mielczarskiego 8/58 | 02-798 Warszawa
TAX NUMBER: PL 951 245 79 19
vocapp@vocapp.com
Address
VocApp Sp. z o.o.
ul. Mielczarskiego 8/58
02-798 Warszawa
NIP: 951 245 79 19
REGON: 369727696
Things you didn't know about Spanish
It's a great idea to look for some interesting facts and discover the history of the language you want to learn. It will add more interest and motivation. A thing you probably didn't know about the Spanish language is that its grammar was published for the first time in 1492 by a famous humanist - Antonio de Nebrija. Also, Spanish is considered the most romantic language in the world. It is also one of the most popular languages worldwide, growing by a rate of over 1300% in the last years. Due to its popularity, its beauty and uniqueness and the fact that it represents the countries that some of the most popular touristic destinations, Spanish is not only worth studying but should be studied! VocApp offers you a unique opportunity to learn Spanish fast! Continue reading to discover how to do that!
Learn to speak Spanish
What is the easiest way to learn Spanish? How to remember new Spanish words forever? It's all possible with VocApp! Our unique platform and our fun app are perfect for learning Spanish! The flashcard method is one of the most effective when it comes to understanding and remembering new words! Each flashcard will present you basic Spanish words and phrases and will help you master them! There's no reason to be worried about pronunciation, the lector will help you pronounce the basic Spanish vocabulary perfectly! This particular basic Spanish course is a continuation of the Spanish in 1 day course that will intoduce you to important basic Spanish vocabulary that includes the most useful Spanish phrases and most common Spanish words. This is one of the best online Spanish courses to follow in order to learn basic Spanish!
Learn basic Spanish vocabulary
Follow this professional course to learn the most important basic Spanish vocabulary that you will need to start conversations with native speakers or while visiting a Spanish speaking country. Here are some reasons why this basic Spanish course is one of the best and the most effective:
1. The flashcards include everything you need in order to remember the new basic Spanish words and phrases - pictures, Spanish to English translations and example sentences.
2. This course will teach you numbers in Spanish, useful expressions, basic Spanish grammar and many more Spanish lessons on other topics!
2. You will practive the pronunication of the basic Spanish vocabulary while learning!
3. You can download the course as an mp3 or pdf file to learn wherever and whenever you want!
4. The Spaced Repetition System will form repetitions out of the words that were difficult so you will learn and remember all the new words forever!
This course is part of an entire collection of Spanish courses that will teach you how to speak Spanish! That's why, we recommend you to continue learning with the other vocabulary courses that will enrich your Spanish vocabulary, for example, the Spanish Vocabulary A1 and Spanish Vocabulary A2 courses. Learn Spanish easily and fast with our effective flashcard method!
---