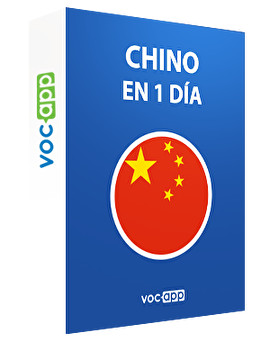 Chino en 1 día
!Aprenda chino con VocApp!
¿Siempre tuviste interés en saber hablar el idoma de Jackie Chan? Pues vale, aquí podrás aprenderlo!
¡Nuestras grabaciones te ayudarán a ver qué chino es "coser y cantar"!
¡Tener una conversación simple en chino ya no es un problema!
¡No dejes para mañana lo que puedes hacer hoy!
Sign up for free
This course is 100% free. We want to show you how fast & easy you can learn with us.
10 Palabras en 60 segundos - 十词语一分钟




10 flashcards

Esto ya lo conoces:) - 这些词语你已经知道




11 flashcards

Preguntas - 问事情




10 flashcards

Expresiones de cortesía - 礼貌的表达




19 flashcards

Personas - 人




28 flashcards

Verbos - 动词




27 flashcards

无法翻译 - Intraducibles




5 flashcards
---