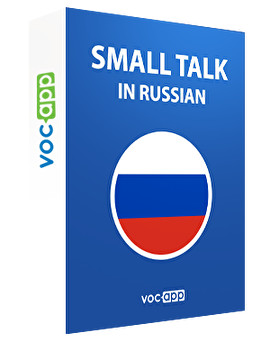 Small talk in Russian
Learn useful Russian phrases to start an informal conversation at work!
Talk about current events, weather and holidays with your Russian colleagues
Impress your Russian partners with the new expressions you know
Overcome the fear of starting spontaneous conversations in Russian
Gain more confidence in your Russian language skills with our effective flashcards!
×
Questions?
Create account >

Select the payment method

>

Payment

>

Confirmation of registration
try it for free (30 flashcards)
Get full access
Conversation starters and greetings - Начало разговора и приветствия




36 flashcards

Typical responses - Типичные ответы




32 flashcards

Talking about the weather - Разговаривая о погоде




44 flashcards

Talking about current events - Разговаривая о текущих событиях




57 flashcards

At the office - В офисе




62 flashcards

At a social event - На социальном мероприятии




51 flashcards

At a conference - На конференции




34 flashcards

Catching up and gossiping - Обсуждая и сплетничая




45 flashcards

Show all lessons (17)
If you are not satisfied with the product you have bought, contact us and we will reimburse your money.
Marcin Młodzki
,
board member
(Warsaw, 1st Oct 2018)
VocApp Sp. z o.o.
ul. Mielczarskiego 8/58 | 02-798 Warszawa
TAX NUMBER: PL 951 245 79 19
vocapp@vocapp.com
Address
VocApp Sp. z o.o.
ul. Mielczarskiego 8/58
02-798 Warszawa
NIP: 951 245 79 19
REGON: 369727696
Learn Russian phrases for a small talk
Small talk is an informal type of conversation that focuses on general topics and is often used in the work environment. It is impossible to imagine the culture of communication at work without small talk. The Russian phrases used during small talk at work depend on the situation and formality. You can use the Russian phrases you will learn with this course at various formal and informal work events. The typical topics for small talk are neutral, for example, weather, sport, family or news. This effective flashcard course will help you to quickly learn important Russian phrases to use when talking to work colleagues. Now, you will not need a dictionary to talk to your foreign partners, you will know all the needed Russian vocabulary and small talk phrases. This professional course will teach you how to talk in Russian at formal and informal events.
What will you learn with this course?
1. The main greetings and Russian phrases to start a conversation
2. Typical Russian phrases, such as questions and answers on different general topics
3. Russian vocabulary to use for a simple conversation about weather, gossips or news
4. Small talk phrases to discuss things during lunch in the office
5. Russian phrases that will help you communicate during a social event
6. What to say at conferences and meetings
7. Which Russian phrases to use to ask and express your opinion and not only!
The effectiveness of our course of small talk phrases is based on the multisensorial flashcards that include all the needed information to understand and remember the new Russian phrases. Thanks to the flashcards, you will learn how to talk in Russian because they include the translation from English to Russian, sentences with the Russian words and most important - the Russian pronunciation. We use a Spaced Repetition System that ensures that you will quickly memorize all the new Russian phrases and will never forget them. Try our method and see how easy it is to learn a language!
More Russian courses
If you liked this course and would want to learn more Russian phrases on different topics, enhance your Russian vocabulary and practice your Russian pronunciation - there are plenty of professional courses on our website and in our applications! For example, the professional linguists at VocApp dedicated an entire course to IT industry vocabulary that could be useful in business. Check the course Business Russian - IT to learn them quickly! Moreover, there is an entire course with Russian phrases to use during a presentation in Russian. The Business Russian - Presentations course will teach you how to formulate an introduction, how to explain the topic, how to emphasize an important point, to ask and give questions and more useful Russian vocabulary. Another course that could interest you is Russian idioms and aphorisms that includes interesting expressions used in Russia. These Russian phrases will help you impress the native speakers with your Russian language skills! Learn new Russian phrases fast and easy with VocApp and remember them forever!
---