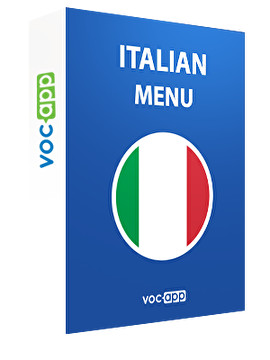 Italian menu
Ultimate guide to Italian cuisine
Going to Italy? Prepare yourself with this guide to the Italian cuisine
Frizzante or effervescente? Taverna or trattoria? Let us help you!
Handy expressions, type of meals and essential information that you'll need in Italian restaurants
Siete pronti ad ordinare? Yes, you are!
Sign up for free
This course is 100% free. We want to show you how fast & easy you can learn with us.
Basic vocabulary




22 flashcards

Useful phrases




19 flashcards

Types of restaurants




6 flashcards

Typical food




13 flashcards

Traditional local dishes




30 flashcards
Learn Italian with flashcards
You're looking for a course where you can learn words regarding Italian cuisine? We got you! This course was made especially for those of you who are passionate about Italian culture and food and want to learn more about this amazing language. Starting with food is the best choice! If you're here, you're probably not Italian, and Italian food is one of the closest things to Italy we can have, so why not try to pronounce their food correctly, right? In this course, you'll learn Italian words related to food. It's made of different lessons based on topics like local food, useful phrases etc. Let's start learning!
5 reasons why you should learn Italian
This course is mostly about Italian food, but keep in mind that Italian isn't just food, it's a beautiful language that we hope you'll learn to love through this course. Here's a list of reasons why you should learn Italian in its entirety:
1. First of all, Italian is one of the most studied languages in the world! It's very popular, and we bet that wherever you'll go in the world, you will always find an Italian speaker;
2. Learning a language also means learning about its traditions. If you're following this course about Italian food you're already on the right path! Learn Italian to have a broader view of the culture related to it;
3. Italian is very similar to other romance languages, like French and Spanish. By learning Italian if will be easier for you to learn other languages as well;
4. Knowing the Italian language and a new language, in general, is very useful when you're looking for a job. Nowadays the knowledge of at least one foreign language is more and more requested, and this would be your chance to stand out;
5. If you're travelling to Italy, it will make your holiday easier and more fun! You'll impress the locals and at the same time, you'll get the chance to improve your language skills!
Why you should learn Italian with VocApp
VocApp is a language learning app that makes the process of learning easy and fun! If you enjoyed this course and you want to learn new Italian words check on our website other courses where you can learn Italian. We have lots of different courses, like Italian in 1 day and Everyday phrases in Italian. Keep on learning Italian with VocApp, you won't regret it!
---