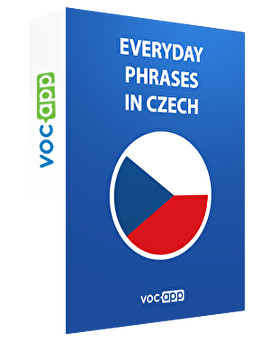 Everyday phrases in Czech
Let's talk Czech!
Learn all the most important phrases in Czech language in just one course!
Be prepared for Czech conversation, these phrases will back you up in every situation
Don't let the Czech consonants (such as ř, š, č, ž,...) scare you, our audio records will help you to learn the right pronunciation with no effort
No matter what level of Czech language you are on, these useful phrases will come in handy for everyone
×
Questions?
Create account >

Select the payment method

>

Payment

>

Confirmation of registration
try it for free (20 flashcards)
Get full access
Greetings, farewells and courtesy phrases - Přivítání, rozloučení a zd...




20 flashcards

Shopping - Nakupování




20 flashcards

At school - Ve škole




19 flashcards

In a bank - V bance




20 flashcards

In a restaurant - V restauraci




20 flashcards

In an interview - Na pohovoru




20 flashcards

At work - V práci




20 flashcards

In a hotel - V hotelu




20 flashcards

Show all lessons (26)
If you are not satisfied with the product you have bought, contact us and we will reimburse your money.
Marcin Młodzki
,
board member
(Warsaw, 1st Oct 2018)
VocApp Sp. z o.o.
ul. Mielczarskiego 8/58 | 02-798 Warszawa
TAX NUMBER: PL 951 245 79 19
vocapp@vocapp.com
Address
VocApp Sp. z o.o.
ul. Mielczarskiego 8/58
02-798 Warszawa
NIP: 951 245 79 19
REGON: 369727696
Facts you didn't know about Czech
Czech is a Slavic language spoken by over 10 million people worldwide. It is mutually intelligible with Slovak and has lexical similarities with Polish, Russian, Ukrainian and other Slavic languages. Here are some of the things you definitely didn't know about the Czech language:
1. One of the most complicated rules in Czech is the capitalization. Only a third of the native speakers know when to use capitals correctly.
2. There is vowel length in Czech. Those vowels that have an accent above them should be pronounced longer.
3. You can change the word order in a sentence and it will still make sense.
4. The letter "ř" is a very unique one because it is used only in the Czech language.
5. There are four main dialects in Czech based on the region of the country.
6. Some Czech words have several degrees of diminutives. The most common example is the word "book": kniha - knížka - knížečka.
Start discovering this language by learning the most important and commonly used Czech phrases, as thank you in Czech and hello in Czech along with their pronunciation and their Czech to English translation! Impress the natives with your knowledge of Czech!
Learn Czech with our courses
If you're looking for a way to learn Czech easy and fast, our flashcards will help you! Our professional linguists created many Czech courses for different levels and on different topics. This course includes some of the most useful Czech phrases to use in a bank, at a hospital, in a meeting and not only! The lessons of this course will introduce you to Czech phrases along with their Czech to English translation and Czech pronunciation, to make sure you understand them and that the native speakers will understand you. Moreover, you will be able to download the course with Czech phrases to read or listen to the flashcards with the Czech to English translation on the go. This will make learning Czech phrases more comfortable! You will learn how to say hello in Czech and many more important Czech phrases to use during your trip to Czech or in a conversation with a Czech native. You can also download our app to learn Czech phrases with your smartphone! Start learning Czech phrases today for fast results!
More Czech courses
There are many more Czech courses on our site to help you learn Czech. If you feel like you know all the Czech phrases from this course, proceed to the Czech Words: Top 1000 Nouns course to learn the most important Czech nouns and enrich your vocabulary. Continue with the courses Czech Words: Top 500 Verbs and Czech Words: Top 300 Adjectives and you will start forming your own sentences in Czech. If you want to learn more basic Czech phrases and words, take a look at the Czech in 1 day course that includes courtesy phrases, verbs, questions in Czech and more vocabulary for beginners. Learn Czech phrases and useful Czech words with VocApp to achieve fantastic results in no time!
---