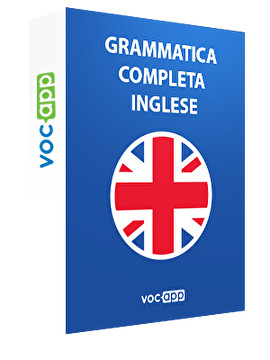 Grammatica completa inglese
Risolvi tutti i tuoi dubbi di grammatica inglese con VocApp!
Senti di dover ripassare o imparare da zero la grammatica inglese, in modo veloce ed efficace?
Questo corso include qualsiasi tema: sostantivi singolari e plurali, tempo dei verbi, verbi composti
Hai dei dubbi anche su preposizioni, avverbi ed aggettivi? Troverai esempi e spiegazioni ad aiutarti!
Non rimandare a domani! Inizia oggi a migliorare il tuo livello di Inglese!
×
Questions?
Create account >

Select the payment method

>

Payment

>

Confirmation of registration
try it for free (30 flashcards)
Get full access
Sostantivi: singolare e plurale - Noun: Singular and Plural nouns




164 flashcards

Sostantivi maschili e femminili - Masculine and feminine Noun




48 flashcards

Forma possessiva: singolare - Possessive form: singular




18 flashcards

Pronomi soggetto - Subjective pronoun




8 flashcards

Pronome diretto - Objective pronoun




8 flashcards

Pronomi riflessivi - Reflexive pronouns




7 flashcards

Pronomi possessivi - Possessive pronoun




7 flashcards

Pronomi dimostrativi - Demonstrative pronoun




4 flashcards

Show all lessons (40)
If you are not satisfied with the product you have bought, contact us and we will reimburse your money.
Marcin Młodzki
,
board member
(Warsaw, 1st Oct 2018)
VocApp Sp. z o.o.
ul. Mielczarskiego 8/58 | 02-798 Warszawa
TAX NUMBER: PL 951 245 79 19
vocapp@vocapp.com
Address
VocApp Sp. z o.o.
ul. Mielczarskiego 8/58
02-798 Warszawa
NIP: 951 245 79 19
REGON: 369727696
---