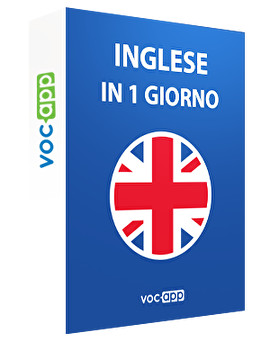 Inglese in 1 giorno
Impara l'inglese con Voc App!
Inizia a comportarti come un vero nativo inglese!
Vieni ad imparare la lingua di personaggi come la Regina Elisabetta, Beckham e Shakespeare
Le nostre registrazioni ti aiuteranno a migliorare la tua pronuncia inglese
Vuoi comunicare fluentemente in inglese con gli altri? Con noi non è un problema!
Sign up for free
This course is 100% free. We want to show you how fast & easy you can learn with us.
10 parole in 60 secondi - 10 words in 60 seconds




10 flashcards

Lo sai già questo:) - You already know that:)




10 flashcards

Domande - Questions




10 flashcards

Frasi di cortesia - Courtesy Phrases




16 flashcards

Gente - People




28 flashcards

Attività - Activities




17 flashcards
---