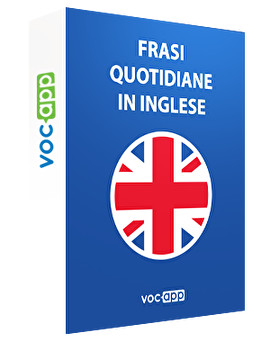 Frasi quotidiane in inglese
Impara le frasi più comuni in spagnolo in breve tempo
Aumenta la tua sicurezza per parlare in qualsiasi situazione comunicativa
Migliora il tuo livello di spagnolo ancora di più con queste frasi!
Non aver paura di parlare in spagnolo, con queste frasi puoi esprimerti liberamente
Imparerai molto di più con noi
×
Questions?
Create account >

Select the payment method

>

Payment

>

Confirmation of registration
try it for free (20 flashcards)
Get full access
Saluti, addii e cortesie - Greetings, farewells and courtesy phrases




20 flashcards

Fare shopping - Shopping




20 flashcards

A scuola - At school




19 flashcards

In una banca - In a bank




20 flashcards

In un ristorante - In a restaurant




20 flashcards

In un'intervista - In an interview




20 flashcards

Al lavoro - At work




20 flashcards

In un hotel - In a hotel




20 flashcards

Show all lessons (26)
If you are not satisfied with the product you have bought, contact us and we will reimburse your money.
Marcin Młodzki
,
board member
(Warsaw, 1st Oct 2018)
VocApp Sp. z o.o.
ul. Mielczarskiego 8/58 | 02-798 Warszawa
TAX NUMBER: PL 951 245 79 19
vocapp@vocapp.com
Address
VocApp Sp. z o.o.
ul. Mielczarskiego 8/58
02-798 Warszawa
NIP: 951 245 79 19
REGON: 369727696
Frasi quotidiane in inglese
Vuoi partire per un viaggio in uno dei paesi anglofoni ma hai paura di non riuscire a sopravvivere perché non sai neanche una parola di inglese, se non "hello"? Beh, allora studia con il nostro corso le frasi utili in inglese e parti dalle basi dando anche uno sguardo ai nostri corsi Inglese in 1 giorno e Inglese: giorno 2 .
Frasi quotidiane in inglese
Quando si apprende una lingua è fondamentale impare espressioni e parole nuove contestualizzandole, infatti noi ti proporremo frasi e parole in esempi per te utili da impiegare e mettere immediatamente in pratica quanto appreso della lingua inglese. Grazie ai nostri corsi avrai a tua disposizione un vero e proprio frasario inglese da portare sempre con te. Noi ti proponiamo delle frasi significative in inglese e tu impegnati per apprenderle e non demordere!
Frasi quotidiane in inglese con traduzione
Ti starai chiedendo come ti aiuteremo a ricordare tutte queste nuove frasi in una lingua per te sconosciuta! Beh, noi ti proponiamo di collegare ogni nuova frase a un'immagine, così da scolpire nella tua mente quanto apprendi. Poi lascia a noi il compito di ricordarti quando ripassare, ti spingeremo a farlo ogni giorno con il nostro sistema di ripetizione cadenzato. Con VocApp sarai in grado di ricordare frasi varie in inglese che non avresti mai pensato di imparare e ricordare per sempre. Quindi, perché non tentare e provare anche a sfoggiare le nuove conoscenze durante un viaggio in America o nel Regno Unito? Vedrai che i tuoi nuovi amici madrelingua rimarranno sbalorditi di quante frasi inglesi conosci!
---