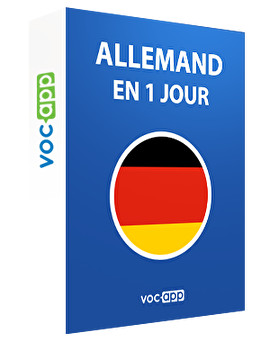 Allemand en 1 jour
Commence ton aventure avec l'allemand !
Commence à parler la langue d'Albert Einstein, Thomas Müller et Diane Kruger
Apprends le vocabulaire de base
Familiarise-toi avec les mots les plus importants
Comprends les principales règles grammaticales de l'allemand
Sign up for free
This course is 100% free. We want to show you how fast & easy you can learn with us.
10 mots en 60 secondes - 10 Wörter in 60 Sekunden




10 flashcards

Tu le sais déjà! - Das kennst du schon!




8 flashcards

- Fragen




15 flashcards

- Höflichkeitsformeln




18 flashcards

Personnes - Personen




33 flashcards

- Aktivitäten




19 flashcards

- Unübersetzbare Wörter




9 flashcards
---