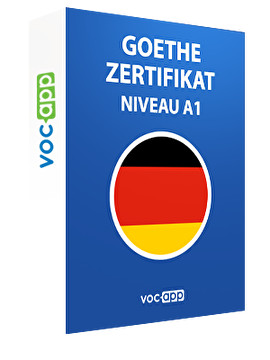 Goethe Zertifikat - Niveau A1
Réussissez facilement l'examen Goethe niveau A1 grâce à l'auto-apprentissage !
La langue allemande a suscité votre intérêt et vous envisagez maintenant de passer l'examen niveau A1 ? Alors ce cours est fait pour vous !
Apprenez 800 mots de base, que vous rencontrerez pendant le test et réussissez l'examen sans grandes difficultés !
Il est plus facile de deviner la signification de mots inconnus à partir du contexte : des phrases d'exemple vous aideront à les mémoriser !
Assurez-vous également d'apprendre la prononciation correcte de chaque mot et phrase d'exemple grâce à nos audios !
×
Questions?
Create account >

Select the payment method

>

Payment

>

Confirmation of registration
try it for free (30 flashcards)
Get full access
les chiffres - die Zahlen




38 flashcards

l'heure - die Uhrzeit




15 flashcards

les jours de la semaine, les heures de la journée, les saisons et les ...




32 flashcards

Devises, mesures et poids - Währungen, Maße und Gewichte




14 flashcards

les couleurs - die Farben




8 flashcards

les quatre points cardinaux - die Himmelsrichtungen




4 flashcards

Liste alphabétique de mots - A (1-50) - Alphabetische Wortliste - A (1...




50 flashcards

Liste alphabétique de mots - A (51 - 75) - Alphabetische Wortliste - A...




24 flashcards

Show all lessons (32)
If you are not satisfied with the product you have bought, contact us and we will reimburse your money.
Marcin Młodzki
,
board member
(Warsaw, 1st Oct 2018)
VocApp Sp. z o.o.
ul. Mielczarskiego 8/58 | 02-798 Warszawa
TAX NUMBER: PL 951 245 79 19
vocapp@vocapp.com
Address
VocApp Sp. z o.o.
ul. Mielczarskiego 8/58
02-798 Warszawa
NIP: 951 245 79 19
REGON: 369727696
---