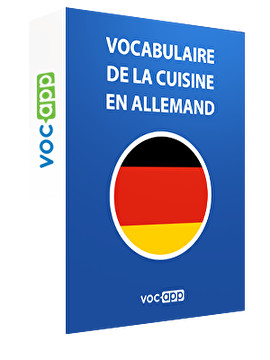 Vocabulaire de la cuisine en allemand
Grâce à ce vocabulaire essentiel, vous vous retrouverez aussi sans problèmes dans la cuisine allemande !
Vous souhaitez profiter de la cuisine allemande dans sa version originale ? Ce cours vous permettra d'acquérir les connaissances nécessaires !
Découvrez les ingrédients classiques de la cuisine populaire allemande dans la langue d'origine !
Il est plus facile de deviner la signification de mots inconnus à partir du contexte: des phrases d'exemple vous aideront à les mémoriser !
Assurez-vous également d'apprendre la prononciation correcte de chaque mot grâce à nos audios !
Sign up for free
This course is 100% free. We want to show you how fast & easy you can learn with us.
les fruits - das Obst




36 flashcards

les légumes - das Gemüse




36 flashcards

Verbes - Verben




26 flashcards

les appareils électroménagers - die Elektrohaushaltsgeräte




17 flashcards

Boissons - Getränke




12 flashcards

Épices - Gewürze




35 flashcards

Goût - Geschmack




10 flashcards

Plats allemands typiques - Typische deutsche Gerichte




11 flashcards

Recette d'une salade de pommes de terre pas à pas - Ein Schritt-für-Sc...




8 flashcards
---