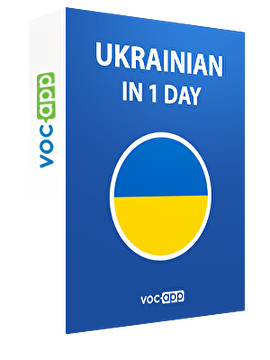 Ukrainian in 1 day
Learn basic phrases in Ukrainian!
Learn Cyrillic alphabet and put your messages into secret writing!
Impress your friends saying "cheers" in Ukrainian!
Learn the language of Mila Kunis and Wladimir Klitschko!
Find out what "Краплинка" means!
Sign up for free
This course is 100% free. We want to show you how fast & easy you can learn with us.
10 words in 60 seconds - 10 слів за 60 секунд




10 flashcards

Alphabet - алфавіту




33 flashcards

You already know that:) - Це ти вже знаєш:)




10 flashcards

Questions - Питання




11 flashcards

Courtesy Phrases - Слова ввічливості




18 flashcards

People - Особи




28 flashcards

Useful phrases - Корисні фрази




23 flashcards

Untranslatable - Неперекладні




6 flashcards
---