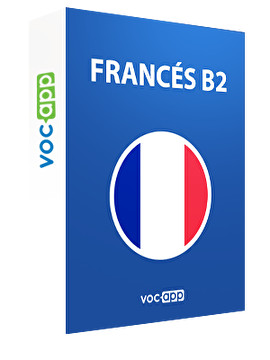 Francés B2
Perfecciona tu francés
Alcanza el siguiente nivel de francés
Aprende más de 1500 palabras nuevas
Discuta con los franceses sobre cualquier cosa: política, arte, economía...
Recuerda para siempre gracias al Sistema de Repetición Espaciada
×
Questions?
Create account >

Select the payment method

>

Payment

>

Confirmation of registration
try it for free (50 flashcards)
Get full access
Rasgos de la personalidad - Les traits de caractère




45 flashcards

Las emociones - Les émotions




34 flashcards

La economía y el dinero - L'économie et l'argent




37 flashcards

Los animales - Les animaux




65 flashcards

Las plantas - Les plantes




34 flashcards

Las frutas y las hortalizas - Les fruits et les légumes




57 flashcards

La política - La politique




37 flashcards

La película y el teatro - Le film et le théâtre




36 flashcards

Show all lessons (31)
If you are not satisfied with the product you have bought, contact us and we will reimburse your money.
Marcin Młodzki
,
board member
(Warsaw, 1st Oct 2018)
VocApp Sp. z o.o.
ul. Mielczarskiego 8/58 | 02-798 Warszawa
TAX NUMBER: PL 951 245 79 19
vocapp@vocapp.com
Address
VocApp Sp. z o.o.
ul. Mielczarskiego 8/58
02-798 Warszawa
NIP: 951 245 79 19
REGON: 369727696
Aprender francés
¿Sabías que el francés no se habla solo en Francia? En efecto, en la actualidad, la lengua francesa es hablada por más de 300 millones de personas por todo lado del mundo. Por consiguiente, ser capaz de hablar francés puede ser una ventaja tanto en el mundo laboral como en la vida cotidiana.
En VocApp, sabemos que aprender idiomas necesita muchos esfuerzos y mucho tiempo. Es por eso que, con la ayuda de nuestro sistema de tarjetas, aprenderás fácilmente cientos de palabras que nunca volverás a olvidar. ¿Quieres aprender francés rápido? ¡Así que no lo dudes más y empieza la experiencia VocApp ahora! ¡Nuestros cursos y lecciones ya te están esperando!
Francés B2
¿Quieres aprender más sobre la lengua de Molière? ¿Quieres saber cómo aprender francés en casa? Pues entonces, VocApp es la solución perfecta para ti.
Con este curso creado por VocApp, podrás aprender francés online con mucha facilidad. En efecto, te hemos preparado una lista de palabras en francés para alcanzar el nivel B2 en francés. Gracias a nuestro curso compuesto de 31 lecciones, aprenderás muchas palabras nuevas en francés sobre la política, los animales, la prensa y la literatura, las nuevas tecnologías y sobre muchos otros temas.
Más cursos de francés para ti
¿Estás a punto de viajar a Francia? ¿O simplemente quieres conocer más vocabulario en francés?
En este caso te proponemos otros cursos de francés que pueden interesarte para mejorar, todavía más, tu nivel de francés: Francés para viajes y Frases cotidianas en francés
---