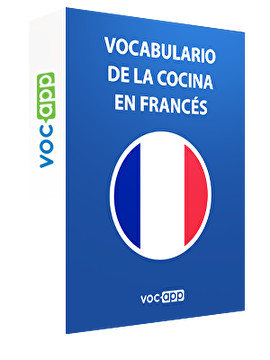 Vocabulario de la cocina en francés
Si quieres convertirte en un verdadero chef... ¡este es tu curso!
Aprende las frutas, verduras, especias y más en lengua francesa
Cubiertos, utensilios de cocina... ¡aprende francés para cocineros!
Descubre los platos típicos de Francia y sus distintas regiones
¡Encontrarás incluso la traducción de una receta tradicional!
Sign up for free
This course is 100% free. We want to show you how fast & easy you can learn with us.
Frutas - Fruits




36 flashcards

Verduras - Légumes




36 flashcards

Verbos - Verbes




26 flashcards

Electrodomésticos - Appareils électroménagers




18 flashcards

Bebidas - Boissons




12 flashcards

Especias - Épices




35 flashcards

Sabor - Goût




10 flashcards

Platos franceses típicos - Plats français typiques




11 flashcards

Receta de la tartiflette paso a paso - Recette de la tartiflette pas à...




9 flashcards
---