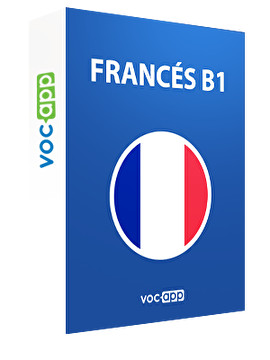 Francés B1
Da un paso adelante en tu aprendizaje
Conoce más de 1200 palabras nuevas
Aprende fácilmente gracias a nuestro material temático (trabajo, cuerpo, comida y mucho más)
Habla un francés "formidable"
Mejora significativamente tu conocimiento del idioma
×
Questions?
Create account >

Select the payment method

>

Payment

>

Confirmation of registration
try it for free (50 flashcards)
Get full access
Los deseos y las demandas - Les souhaits et les demandes




18 flashcards

El carácter y el aspecto - Le caractère et l'apparence physique




27 flashcards

El cuerpo - Le corps




38 flashcards

Los sentimientos - Les sentiments




28 flashcards

La salud - La santé




65 flashcards

La familia y las relaciones - La famille et les relations




43 flashcards

El trabajo - Le travail




46 flashcards

La casa y el piso - La maison et l'appartement




31 flashcards

Show all lessons (35)
If you are not satisfied with the product you have bought, contact us and we will reimburse your money.
Marcin Młodzki
,
board member
(Warsaw, 1st Oct 2018)
VocApp Sp. z o.o.
ul. Mielczarskiego 8/58 | 02-798 Warszawa
TAX NUMBER: PL 951 245 79 19
vocapp@vocapp.com
Address
VocApp Sp. z o.o.
ul. Mielczarskiego 8/58
02-798 Warszawa
NIP: 951 245 79 19
REGON: 369727696
Aprender francés
En este curso de francés B1, aprenderás todo el vocabulario y gramática necesarios para superar con éxito cualquier exámen que tengas por delante sin importar que tipo sea. Accede ya a este curso y sorprende a los examinadores con tu gran nivel de inglés, no dejes pasar esta oportunidad. En nuestra app, es decir, vocapp utilizamos un método enfocado en las tarjetas, y el cual esta demostrado que funciona mucho mejor que cualquier otro método usado por otros cursos existentes en internet, y que ayuda a mantener y no olvidar las nuevas palabras aprendidas.
Niveles de francés
¿Te gustaría aprender el idioma de los mayores amantes del queso o de los creadores de platos como ¨Foie gras¨ o ¨Cassoulet¨? Pues te damos la oportunidad de empezar hoy. ¿Te gustaría dejar de estar soltero y encontrar por fin a tu media naranja? Pues aprende el idioma del amor y cambia tu situación radicalmente. Este curso te proporcionará todo el temario del francés B1 para que puedas superar el examen sin ningún problema y con buena nota. El francés es un idioma muy usado en todo el mundo, incluso si no tienes planeado salir de tu país natal, te puede abrir muchas puertas o aumentar tus posibilidades de encontrar mejores trabajos con mejores condiciones. Así que no lo pienses más y accede ya al curso. En el mundo existen 284,9 millones de personas que hablan francés, en 29 países es el idioma oficial, y en muchos otros es un idioma cooficial. Así que no lo dejes pasar y déjanos ayudarte. ¿Te gustaría ver lugares como la torre eiffel, la catedral de Notre Dame o el palacio de versalles? Pues no busques más, has llegado al lugar adecuado, este es tu idioma.

Te puede interesar también: Francés B2
---