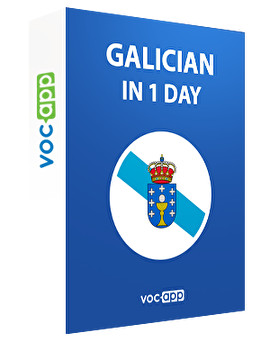 Galician in 1 day
Learn basics of Galician language!
Learn the local language of Santiago de Compostella
Galician will help you understand both: Spanish and Portuguese!
Check out the language of a Spanish ethnic minority!
Learn what "morriña" means!
Sign up for free
This course is 100% free. We want to show you how fast & easy you can learn with us.
10 words in 60 seconds




10 flashcards

You already know that:)




10 flashcards

Questions




10 flashcards

Courtesy Phrases




17 flashcards

People




28 flashcards

Activities




17 flashcards

Untranslatable




8 flashcards
Interesting facts about the Galician language
The Galician language is part of the Ibero-Romance branch and is spoken by about 2.5 million people worldwide, most of whom are living in Galicia. Most of the Galician words come from Latin but there is also lexicon coming from Germanic languages. It has many similarities with Castilian Spanish, although there are some phonological differences. Here are some important facts about this language that you should know before starting to learn Galician:
1. It is not a Spanish dialect, it's a language itself.
2. If you will learn Galician, you will be able to understand a lot of Portuguese.
3. Galician dates back to the 12th century.
4. It comes from Vulgar Latin.
5. It was banned between 1939 and 1975 when Francisco Franco ruled over Spain.
There are many reasons to learn Galician, from the possibility to discover the culture of the community to the wish to visit Galicia yourself for its beaches and seafood. If you're a native speaker of one of the Romance languages, it will be easier for you to learn Galician, while if you're not, some effort to learn Galician will help you understand Spanish and Portuguese.
Our Galician courses
The Galician courses on our site are made by professional linguists who picked the most important and commonly used Galician phrases and words and created flashcards for you to easily learn Galician. This Galician course includes flashcards on several topics, as people, activities, questions. It also includes courtesy Galician phrases and untranslatable Galician words explained to you so that you could learn them. Each flashcard will introduce you to a Galician phrase or word, along with its translation and the Galician pronunciation. The flashcards include everything you need in order to learn Galician phrases and remember them. Moreover, you can download the course as an MP3 or PDF file to learn Galician on the go. Our Spaced Repetition System will form repetitions with the most difficult words so that you could repeat them and remember them forever.
Continue learning Galician
If you feel like you mastered all the Galician phrases and words of this course, continue learning Galician with our other courses, for example, with the Galician: day 2 course. It will allow you to learn Galician numbers, useful phrases, vocabulary about time, nouns, features, and many more things. You can learn Galician verbs with the use of the Galician Words: Top 500 Verbs course that includes the most commonly used and important Galician verbs. Learning them will allow you to enrich your vocabulary and form your own sentences in Galician! Learn Galician with VocApp and remember the new words and phrases forever!
---