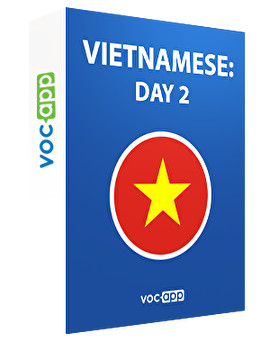 Vietnamese: day 2
Continue learning basic Vietnamese in a fast and efficient way!
Take your Vietnamese to a brand new level with our course!
Enhance your vocabulary with useful words
Learn easily and fast thanks to the flashcards
Remember forever using the Spaced Repetition System!
×
Questions?
Create account >

Select the payment method

>

Payment

>

Confirmation of registration
try it for free (20 flashcards)
Get full access
Numbers - Các con số




60 flashcards

And, or, but, so - Và, hoặc, nhưng, vậy




23 flashcards

Space - Không gian




32 flashcards

Useful nouns - Các danh từ hữu ích




36 flashcards

Useful phrases - Các cụm động từ hữu ích




20 flashcards

Features - Đặc trưng




30 flashcards

Time - Thời gian




26 flashcards

A typical conversation from a student's book;) - Một cuộc trò chuyện đ...




15 flashcards

Show all lessons (10)
If you are not satisfied with the product you have bought, contact us and we will reimburse your money.
Marcin Młodzki
,
board member
(Warsaw, 1st Oct 2018)
VocApp Sp. z o.o.
ul. Mielczarskiego 8/58 | 02-798 Warszawa
TAX NUMBER: PL 951 245 79 19
vocapp@vocapp.com
Address
VocApp Sp. z o.o.
ul. Mielczarskiego 8/58
02-798 Warszawa
NIP: 951 245 79 19
REGON: 369727696
Fun facts about Vietnamese
Once you have learned Vietnamese, you could perceive the deep meanings of Vietnamese culture. Sometimes when you heard someone said something to you, it does not only mean something in the literal sense but also has a figurative meaning. It could be a lesson for you when you live in this hustle and bustle life. I will call this "A Vietnamese profound and subtle". Here are some examples of figurative sayings:
Trong chữ NHẸ lại có dấu NẶNG
Trong chữ VỮNG lại có dấu NGÃ
Trong chữ HIỂU lại có dấu HỎI
Chữ NGẮN lại dài hơn chữ DÀI
Trước khi đọc được chữ KHÔN, ta phải đánh vần qua KHỜ (kh)
You will find LIGHT, in the WEIGHT (lightweight)
Want to FIRM your feet, you must need to FALL
No one UNDERSTAND, except QUESTIONS end
Ridiculously, LONG is shorter than SHORT
To STU-DY a bit, you have to spell STU-PID
Why do we need to learn Vietnamese vocabulary every day?
Vietnam is becoming one of the most touristic attractions, getting used to Vietnamese is a key to travel in Vietnam! Fluency in Vietnamese not only helps you enjoy exploring many gorgeous tourism places in Vietnam but also opens up unlimited learning and working opportunities in Vietnam for yourself! One of the important components of learning Vietnamese is learning Vietnamese vocabulary every day! It is a significant contribution to enriching your vocabulary quickly and sustainably. It will also improve your accent if you will be learning Vietnamese every day. By spending a small amount of time, you can learn Vietnamese vocabulary everyday and incorporate the application of new vocabulary into real-world contexts. The use of diverse and rich vocabulary is also a way to understand Vietnamese culture better, so we certainly have many reasons to learn Vietnamese vocabulary everyday! As we already know, Vietnamese has 6 tones that change the meaning of words. For instance:
keo = glue (n), mean (adj)
kèo = name of a Vietnamese fish (n)
kéo = scissor (n), pull (v), drag (v)
kẻo = or else
kẹo = candy
kẽo kẹt= creaking sound (kẽo does not stand-alone)
How to learn Vietnamese everyday?
You are looking for a Vietnamese translator that will always be by your side? You are curious which is the best way to learn Vietnamese on app? If you need "someone" that can translate English to Vietnamese for you, then congratulations! You have found us! Learn with VocApp, apply the knowledge in 1000 ways!!!
There are many personal pronouns when you go to Vietnam, so it is easy to confuse for some Vietnamese learners with the massive vocabulary they have to learn. Therefore, Vocapp lessons will gather the most popular personal pronouns with intuitive and vivid examples. Moreover, you have enough time and space in learning Vietnamese with us! Just spend a few minutes a day, you absolutely can master Vietnamese: day 2 and apply it in Vietnamese common conversations.
Vietnamese: day 2 will help you to learn Vietnamese numbers, getting along with very basic transliterations and hints. Together with VocApp, Vietnamese will be no longer difficult! The way to apply these basic greetings in Vietnamese will also be specifically instructed in each flashcard for you, so simple and convenient! In addition, you can learn Vietnamese in 1 day parallel with the courses Vietnamese in 1 day and Vietnamese for travelling.
---