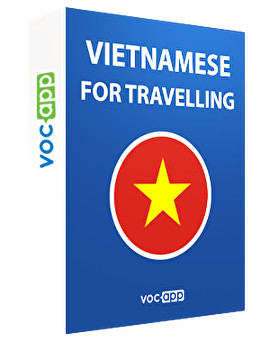 Vietnamese for travelling
Planning a trip to the amazing Vietnam? Prepare for it now!
A collection of over 400 Vietnamese words and phrases
Bonus lessons with places to see in Vietnam and useful tips
Example sentences for you to learn using the words in context
Easy and fast remembering thanks to our efficient flashcard method
×
Questions?
Create account >

Select the payment method

>

Payment

>

Confirmation of registration
try it for free (20 flashcards)
Get full access
Plane - Máy bay




45 flashcards

Car - Xe hơi




39 flashcards

Hitchhiking - Du lịch quá giang




10 flashcards

Long-distance bus - Xe buýt đường dài




24 flashcards

City bus - Xe buýt thành phố




17 flashcards

Train - Tàu hoả, xe lửa




33 flashcards

Ferry - Phà




10 flashcards

Hiking - Đi bộ đường dài




26 flashcards

Show all lessons (18)
If you are not satisfied with the product you have bought, contact us and we will reimburse your money.
Marcin Młodzki
,
board member
(Warsaw, 1st Oct 2018)
VocApp Sp. z o.o.
ul. Mielczarskiego 8/58 | 02-798 Warszawa
TAX NUMBER: PL 951 245 79 19
vocapp@vocapp.com
Address
VocApp Sp. z o.o.
ul. Mielczarskiego 8/58
02-798 Warszawa
NIP: 951 245 79 19
REGON: 369727696
Vietnamese is very difficult
"Vietnamese is very difficult" is the catchphrase of most foreign students when they try to learn Vietnamese. Many have given up after weeks or even months of pursuing. On the other hand, many people have successfully conquered Vietnamese.
One trip to Vietnam, learn Vietnamese from the beginning
The way of saying hi in Vietnamese will often have many differences compared to other languages. In Vietnamese, we usually do not greet in general, we don't use "good morning", "good afternoon" or "good evening". When greeting someone, we will have to consider much about the role of people and the situation.
When greeting older people

Usually, when speaking to people older than themselves, Vietnamese people always have a way of greeting respectfully and politely. There must be a subject and the word "ạ" at the end of the sentence to show respect:

(Em) chào anh/chị ạ! Cháu/Con chào ông/bà/cô/dì/chú/bác ạ!

When greeting younger people

For those of you who are younger in age, according to Vietnamese customs, we will often receive greetings from younger people. There are still cases when the adults can still offer a greeting first to someone younger than themselves if they want to create sympathy or meet the children for the first time.

Ông/bà/chú/bác/cô/dì chào cháu/con.

When greeting with peers (same age group)

For friends of the same age group or even when you just met each other but don't know the name of the other person, the Vietnamese people have a friendly way to greet you. If intimate, the Vietnamese can also greet by calling each other's names. In particular, Vietnamese people also borrow "hello" from English to greet friends.

Chào bạn/cậu
Vietnam has many special experiences for visitors to explore, from going by motorbikes to sightseeing around the city by xich lo (cyclo). In Vietnam, cyclo is considered as a street speciality, also an experience hard to find in any other country. With having quite cheap prices, visitors just negotiate with the driver a bit, request the destination is able to experience the feeling of being a genuine indigenous.
What words are you looking for? Find the answer in our courses!
Together with VocApp, you will no longer feel that it's difficult to learn Vietnamese. Due to our flashcards, you will have the right partner who is willing 24 hours with you to travel in Vietnam. You can learn common Vietnamese vocabulary in travelling, you will know how to say Hi in Vietnamese in different ways that saved by yourself. Vietnamese becomes easy.
If you want to continue learning Vietnamese, you can take a look at our Vietnamese courses: Vietnamese in 1 day and Vietnamese: day 2.
---