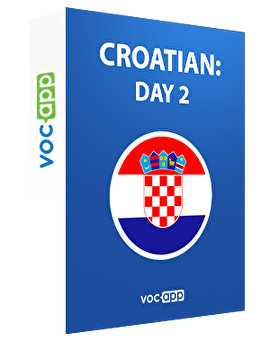 Croatian: day 2
Your second step in learning Croatian
After the first day of learning Croatian, it's the time for the second day!
Second day of learing Croatian is even better than the first one!
Continue you Croatian adventure!
Don't let the first day of learning be your last one!
×
Questions?
Create account >

Select the payment method

>

Payment

>

Confirmation of registration
try it for free (20 flashcards)
Get full access
Numbers - Brojevi




60 flashcards

And, or, but, so - I, ili, ali, pa




23 flashcards

Space - Mjesta




32 flashcards

Useful nouns - Korisne imenice




36 flashcards

Useful phrases




20 flashcards

Features - Karakteristike




30 flashcards

Time - Vrijeme




26 flashcards

A typical conversation from a student's book;) - Tipična konverzacija ...




15 flashcards

Show all lessons (10)
If you are not satisfied with the product you have bought, contact us and we will reimburse your money.
Marcin Młodzki
,
board member
(Warsaw, 1st Oct 2018)
VocApp Sp. z o.o.
ul. Mielczarskiego 8/58 | 02-798 Warszawa
TAX NUMBER: PL 951 245 79 19
vocapp@vocapp.com
Address
VocApp Sp. z o.o.
ul. Mielczarskiego 8/58
02-798 Warszawa
NIP: 951 245 79 19
REGON: 369727696
The origins of the Croatian language
Many people start learning a language or speak a language they don't know much about. If you wish to learn Croatian words and phrases, it would be great to know what are the origins and history of this language. Croatian developed from Old Church Slavonic, diverging from it and becoming a separate language in the 11th century. The language was influenced by many languages, including Serbian. It became independent only after Croatia declared its independence in 1991. Today, it is a language spoken by over 5 million people worldwide, mostly in Croatia, Bosnia and Herzegovina, Romania and Italy. There are many reasons to learn Croatian words and phrases. Here is a list of some of the main ones:
1. Learning Croatian words will allow you to easily learn other similar languages, such as Slovenian, Serbian or Bulgarian.
2. Croatia is known for its food so if you'll want to try some authentic dishes in a small village, you will need to know at least some basic Croatian words.
3. There are more than a thousand beautiful islands you can visit in Croatia.
4. If you want to work in tourism, petrochemicals, shipbuilding or other developed industries in Croatia, it's a great idea to learn some Croatian words and impress your employees.
5. Learning Croatian words is a great brain and memory exercise!
Learn with our Croatian course
If you want to learn some basic Croatian words and phrases, our course will help you! It will introduce you to some common Croatian sayings, will teach you how to say how are you in Croatian. Moreover, you will learn useful phrases like how to say hello in Croatian. All of the flashcards come with Croatian pronunciation so you don't have to worry that somebody will not understand you. The flashcards also include the English translation of the Croatian words to make sure you will understand them and know how to use them. Learn some useful Croatian sayings, vocabulary about space and time, features in Croatian, numbers and basic grammar with this flashcard course! Download the flashcards to learn Croatian words on the go and remember them forever!
Want more Croatian courses?
This course is a continuation of the Croatian in 1 day course so make sure you'll take a look at it! It includes some important Croatian words such as commonly used verbs, questions in Croatian, vocabulary related to people, untranslatable Croatian words explained. You can also continue learning Croatian with the Everyday phrases in Croatian course that includes important Croatian sayings to use in a meeting, at a restaurant, while shopping, in an interview or at work. Repeat these Croatian phrases and you will remember them forever. Learn Croatian with our fun method and achieve easy results!
---