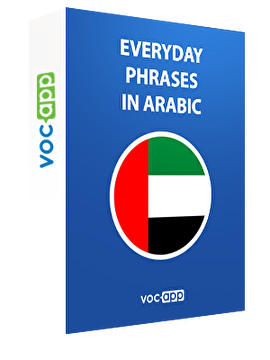 Everyday phrases in Arabic
Get ready to speak Arabic in daily situations!
When going to an Arabic-speaking country, you will have to live your life just like you live it back home. That means: going shopping, going to the bank, getting a haircut, going on interviews…
We have created a course that will help you coast through those situations with very useful phrases
You can take this course whenever you wish, it easily fits into any kind of schedule!
After a bit of training and repetition, most phrases will come easy!
×
Questions?
Create account >

Select the payment method

>

Payment

>

Confirmation of registration
try it for free (20 flashcards)
Get full access
Greetings, farewells and courtesy phrases - تحية طيبة ، وداع ، عبارات ...




20 flashcards

Shopping - عند التسوق




20 flashcards

At school - في المدرسة




19 flashcards

In a bank - في البنك




20 flashcards

In a restaurant - في مطعم




19 flashcards

In an interview - في مقابلة عمل




20 flashcards

At work - في مكان عملك




20 flashcards

In a hotel - في الفندق




20 flashcards

Show all lessons (26)
If you are not satisfied with the product you have bought, contact us and we will reimburse your money.
Marcin Młodzki
,
board member
(Warsaw, 1st Oct 2018)
VocApp Sp. z o.o.
ul. Mielczarskiego 8/58 | 02-798 Warszawa
TAX NUMBER: PL 951 245 79 19
vocapp@vocapp.com
Address
VocApp Sp. z o.o.
ul. Mielczarskiego 8/58
02-798 Warszawa
NIP: 951 245 79 19
REGON: 369727696
Discover more about the Arabic language
Planning to learn basic Arabic phrases? Then you are probably interested in learning more about the origins, the history, and usage of this language. Arabic is a very important language worldwide, being one of the official languages of the United Nations and the official language in 26 countries. Here are some interesting facts that will motivate you to learn Arabic:
1. Arabic is spoken by over 300 million people in the world. If you will learn basic Arabic phrases, it will allow you to start conversations with many people and make a lot of new friends.
2. Arabic is a very old language and its history is very interesting. Classical Arabic dates back to the 6th century but there were some inscriptions in its earlier versions that were written in the 1st century.
3. If you didn't know, words are written from right to left in Arabic and numbers in the opposite direction.
4. There are several types of Arabic, from the modern standard version of this language to classical and colloquial Arabic.
5. The Arabic words are built by adding letters to 3 key letters that represent the root, so if you know what the root means, you can form many other words from it.
6. There are many English words of Arabic origin, for example, sofa and alchemy.
Learn basic Arabic phrases
One of the most effective ways to learn Arabic vocabulary is using our multisensory method based on our flashcards. Each of the flashcards will introduce you to the basic Arabic phrases included in our course by professional linguists. Learning basic Arabic phrases will be easy thanks to the Arabic to English translation of each flashcard and the example sentences for each word. The course has lessons on different basic topics that will be extremely useful for those who want to start a conversation with the native speakers, who plan to travel to countries where Arabic is spoken or who wish to learn more basic Arabic phrases. With the use of this course, you will learn basic Arabic phrases on different topics, starting from Arabic greetings, for example, hello in Arabic to courtesy phrases as thank you in Arabic. You will learn common Arabic phrases to use in a hospital, in a hotel, to talk to a friend in Arabic, to do the shopping and many more. The course also includes basic Arabic phrases for an interview and common Arabic phrases that are used in a professional meeting. The Spaced Repetition System we use on our platform will help you repeat the basic Arabic phrases and remember them forever. Start learning basic Arabic phrases and impress your Arabic friends and colleagues with your language skills!
More flashcards in Arabic
Use our effective method to continue learning basic Arabic phrases and important words in Arabic! Take a look at the other Arabic courses we have on our site, for example, the Arabic in 1 day course will introduce you to the main verbs in Arabic, vocabulary about people, more courtesy phrases, questions in Arabic and untranslatable Arabic words explained by our linguists. You can continue with the Arabic: day 2 course that includes even more common Arabic phrases and words, such as features, useful nouns, numbers and vocabulary about time in Arabic. More than that, it will introduce you to an example of a conversation in Arabic and will explain to you the basic grammar rules in Arabic. Start learning basic Arabic now with our fun and easy lessons!
---