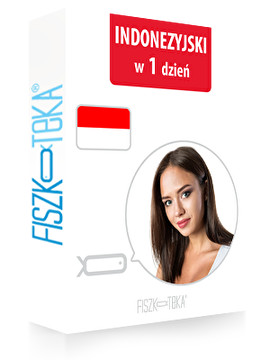 Indonezyjski w 1 dzień
Poznaj język użytkowany przez 200 milionów osób!
Chcesz poznać podstawy tego egzotycznego języka?
Marzą Ci się wakacje na nieziemsko pięknej Bali?
Rozpocznij naukę indonezyjskiego od podstaw razem z nami!
Sign up for free
This course is 100% free. We want to show you how fast & easy you can learn with us.
10 słów w 60 sekund - 10 kata dalam 1 menit




10 flashcards

To już wiesz:) - Anda sudah mengetahui ini:)




12 flashcards

Pytania - Pertanyaan




10 flashcards

Zwroty grzecznościowe - Frasa yang sopan




17 flashcards

Ludzie - Orang




28 flashcards

Czynności - Kata kerja




16 flashcards

Zaimki - Kata ganti




14 flashcards

Nieprzetłumaczalne - Yang tidak dapat diterjemahkan




4 flashcards
---