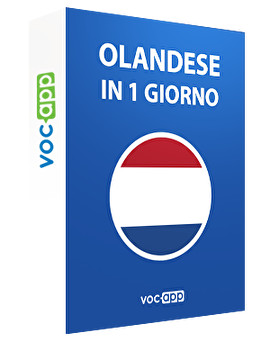 Olandese in 1 giorno
Impara le basi dell'olandese senza sforzo
Apprendi le basi del vocabolario olandese
Inizia a parlare come un vero e proprio olandese!
Prendi confidenza con la lingua di Arjen Robben, Piet Mondrian ed Eddie Van Halen!
Le nostre registrazioni ti aiuteranno con la pronuncia olandese
Sign up for free
This course is 100% free. We want to show you how fast & easy you can learn with us.
10 parole in 10 secondi - 10 woorden in 60 seconden




10 flashcards

Questo lo sai già:) - Deze ken je al:)




10 flashcards

Domande - De vragen




11 flashcards

Frasi di cortesia - De beleefde uitdrukkingen




22 flashcards

Persone - De personen




29 flashcards

Verbi - De handelingen




29 flashcards

Non traducibili - De onvertalbare dingen




10 flashcards
---