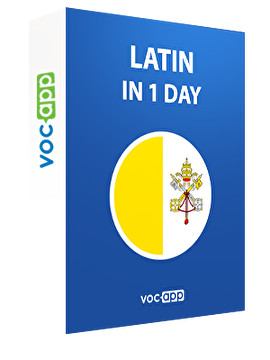 Latin in 1 day
Start with some latin basics in order to widen your cultural repertoire!
Learn some Latin words and sentences
Take this chance to realise how Cicero and Ovidio used to communicate!
Notice which words you usually use come directly from Latin!
Will you still perceive Latin as a dead language? We will see!
Sign up for free
This course is 100% free. We want to show you how fast & easy you can learn with us.
10 words in no time! - 10 verba celeriter




10 flashcards

You already know that:) - Hoc iam scis:)




11 flashcards

Questions - Quaestiones




10 flashcards

Courtesy Phrases - Locutiones Comitatis




16 flashcards

People - Gens




28 flashcards

Activities - Operae




17 flashcards

Untranslatable




13 flashcards
Why is it important to learn Latin?
Did you think of Latin as a useless language? Latinwas the official languages of almost whole Europe and Northen Africa! Even though Latin is not spoken anymore, it is still so important for both our cultures and languages, no matter where you are from! Latin language is the basis of almost everything! You will discover how many terms you use on a daily basis are actually from Latin, without even knowing it! Still, there are a lot of Latin terms which we still use nowadays, such as Curriculum Vitae and ultimatum. Moreover, it will help you out by improving both logical and linguistic skills!
How to learn Latin?
With this course, Latin in 1 day, you will be able to learn Latin by yourself. You can manage your time and learn Latin at your own pace. With the help of flashcards it will be easier to memorize and learn Latin. This course is a way to learn Latin in a fun way. You will have access to varied Latin vocabulary and you will be able to learn the most used Latin words, basic Latin words and Latin phrases. With this learn Latin app, you will not lack reasons to learn Latin in a practical and intuitive way. Learn Latin may seem an impossible task, but thanks to our memorization system, it is easier to memorize Spanish phrases, Spanish words, thanks the selection that Vocapp's team made of the most used Latin words.
Continue learning Latin with our course Latin day 2
---