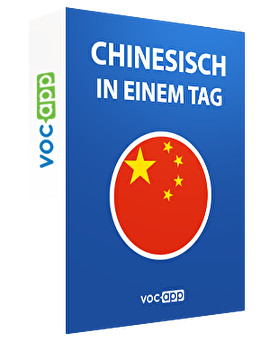 Chinesisch in 1 Tag
Lerne Chinesisch mit Vocapp!
Bist du bereit die meistgesprochene Sprache der Welt zu lernen?
Lerne grundlegende und wichtige Wörter, sowie auch Beispielsätze!
Habe keine Angst vor der chinesischen Aussprache, wir bringen dir die 4 Töne bei!
Du wirst sehen, dass Chinesisch lernen kein Hexenwerk ist!
Sign up for free
This course is 100% free. We want to show you how fast & easy you can learn with us.
Zehn Wörter in einer Minute - 十个词语 一分钟




10 flashcards

Diese Wörter kennst du bereits! - 这些词语你已经知道




10 flashcards

Interrogativpronomen - 疑问代词




12 flashcards

Höfliche Anrede - 礼貌表达




15 flashcards

Personen - 人




37 flashcards

die Verben - 动词




29 flashcards

无法翻译 - Unübersetzbare Wörter




6 flashcards
---