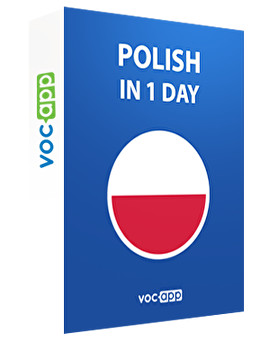 Polish in 1 day
Learn some basic Polish words and phrases with ease
Find out how to say some basic and most important words in Polish
Don't be afraid of "sz", "ó", "ś", "ż"... - we will teach you how to pronounce them!
Get to know some basic grammar rules and understand how to use them in practice
Having a simple conversation in Polish would be "proste" for you!
Sign up for free
This course is 100% free. We want to show you how fast & easy you can learn with us.
10 Words in 60 Seconds - 10 Słów w 60 sekund




9 flashcards

You already know that:) - To już znasz:)




10 flashcards

Questions - Pytania




13 flashcards

Courtesy Phrases - Zwroty Grzecznościowe




20 flashcards

People - Osoby




33 flashcards

Activities - Czynności




33 flashcards

Untranslatable - Nieprzetłumaczalne




10 flashcards
The history and origins of the Polish language
Polish is a Slavic language that emerged around the 10th century when the Polish state started to develop. Some tribes from the Oder and Vistula united thanks to Mieszko I, a ruler of one of the tribes. People started writing in Polish when the Latin alphabet was adopted. The Old Polish language existed between the 9th and 16th centuries, followed by the Middle Polish language and modern Polish. The Polish language was a lingua franca between 1500 and 1700 because of the influence of the country. Polish shares many lexical similarities with other Slavic languages, such as Ukrainian and Russian. The earliest sentence in Polish was written in 1270 and was included in the Book of Henryków. The language is now spoken by over 50 million people worldwide and it still represents an economically, academically and diplomatically important language. Many people start learning Polish for professional and academic opportunities. If you're one of them, this basic Polish course will be a perfect start!
Learn Polish fast and easy
Our multisensory method is one of the most effective when it comes to learning languages! The flashcards will present you Polish phrases and basic Polish words along with their translations, examples of sentences and Polish pronunciation. The Spaced Repetition System will help you remember the basic Polish vocabulary forever by repeating the most difficult Polish phrases and words at the right time. You can also download this basic Polish course to learn Polish phrases on the go. Here are some of the basic Polish topics that were included in this course by our professional linguists:
1. Courtesy phrases
2. Untranslatable Polish words explained by our linguists
3. The most important verbs
4. Questions in Polish
5. Vocabulary about people
The basic Polish vocabulary will help you start conversations with natives using the Polish phrases you learned. Moreover, you will be able to express your thoughts and feelings and form your own basic Polish sentences. The vocabulary included in the course will help you get out of difficult situations. Our flashcards are one of the best ways to learn Polish! Don't waste time, start learning basic Polish right now!
More Polish courses
There are plenty of basic Polish courses on our site and more to come. This course has a continuation - the Polish: day 2 course that includes even more important basic Polish vocabulary. You can deepen your knowledge by choosing a more advanced course. We advise you to take a look at the Everyday phrases in Polish course to learn more useful Polish phrases. Also, you can learn the most commonly used nouns in Polish with the course Polish Words: Top 1000 Nouns and start forming your own sentences! This will also help raise your understanding and the ability to read and pronounce! Study with VocApp, one of the best ways to learn Polish and achieve great results!
---