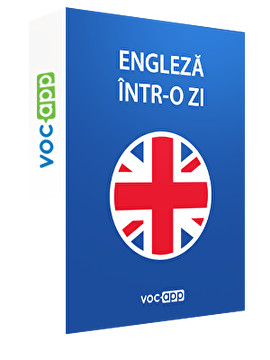 Engleză în 1 zi
Te-ai gândit vreodată că poți învăța o limbă nouă în doar o zi!?
Fii gata de a susține o conversaţie de bază în engleză
Învață cele mai importante cuvinte și fraze în engleză!
Extinde-ți vocabularul cu sute de cuvinte de bază în doar o zi
Practică pronunțarea corectă cu lecțiile noastre audio
Sign up for free
This course is 100% free. We want to show you how fast & easy you can learn with us.
10 cuvinte în 60 de secunde - 10 words in 60 seconds




10 flashcards

Deja ştii asta - You already know that




9 flashcards

Întrebări - Questions




10 flashcards

Fraze de politeţe - Courtesy Phrases




18 flashcards

Oameni - People




28 flashcards
---