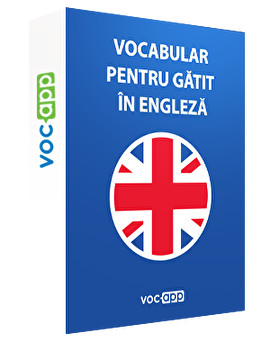 Vocabular pentru gătit în engleză
Vrei să-ți îmbunătățești vocabularul? Alege să înveți cuvinte noi cu VocApp!
Învață cum se spune la fructul dragonului, busuioc și vezi cum numesc englezii mâncărurile românești!
Învață vocabular despre bucătărie și mâncare în engleză
Dezvoltă-ți abilităție lingvistice în limba engleză!
Exersează-ți cunoștințele de limbă și imbunătățește-le!
Sign up for free
This course is 100% free. We want to show you how fast & easy you can learn with us.
Fructe - Fruits




37 flashcards

Legume - Vegetables




38 flashcards

Verbe - Verbs




25 flashcards

Aparate de bucătărie - Kitchen appliances




18 flashcards

Băuturi - Drinks




13 flashcards

Condimente - Spices




35 flashcards

Arome - Flavour




10 flashcards

Mâncăruri tipic britanice - Typical British dishes




11 flashcards

Plăcinta ciobanului pas cu pas - Cottage pie step by step




14 flashcards
---